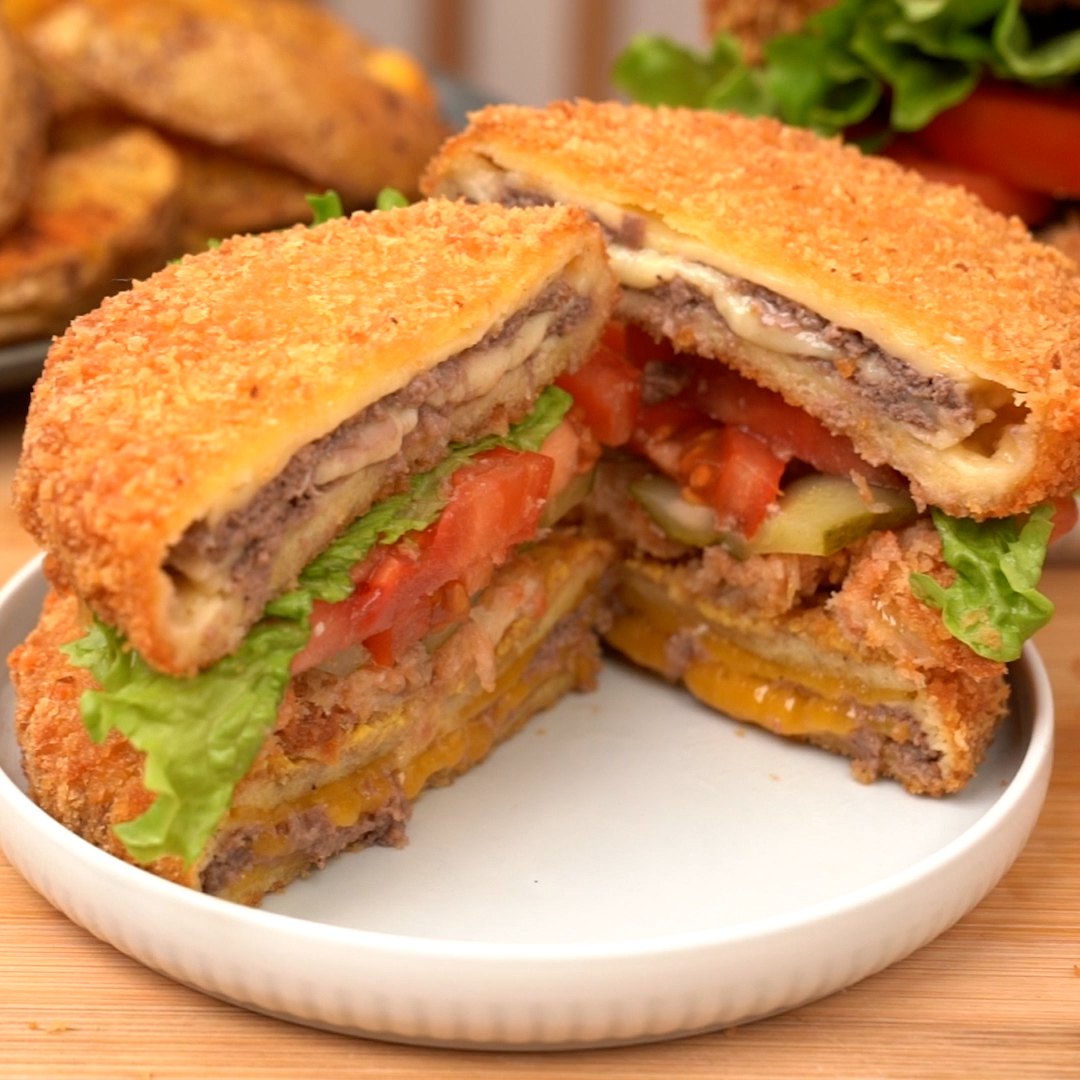 Outside In Cheeseburger
The burger is in the bun 🤯🍔
Made by you!
Ingredients
1/2 lb ground beef
Salt
Pepper
2 tbsp Worcestershire sauce
6 slices Cheddar
6 slices Gouda
2 onions
2 cups flour, divided
2 tsp baking powder
1 cup milk
2 1/2 cups breadcrumbs
3 eggs
Sunflower oil
Mustard
Pickles
Tomatoes
Lettuce
Potato wedges
Tools
Parchment paper
Medium-sized bowls
Paper towels
1. Mix the ground beef with salt, pepper, and Worcestershire sauce in a bowl. Then place the meat on a piece of parchment paper and lay another piece on top. Use a rolling pin to roll out to ¼ inch in thickness. Remove top layer of parchment paper and use medium-sized bowls to cut out 8 circles from the meat. Next, on a parchment lined baking sheet, prepare four meat and cheese stacks with alternating layers of meat and cheese (cheese, burger pattie, cheese, burger pattie, cheese). Then place in the freezer for 1 hour.
2. Meanwhile prepare the onion rings. Cut an onion crosswise into 1 inch thick pieces and separate into layers. Coat the onion rings in 1 cup flour and set aside. Then add baking powder, 1 tsp salt, and milk to the flour and mix. Coat the onion rings in the batter and dip in breadcrumbs. Set aside.
3. Mix the eggs with salt & pepper. Remove the burger patties from the freezer and coat in remaining 1 cup flour, eggs, and breadcrumbs. Then place in fridge. Meanwhile, heat the frying oil to 350 °F. Fry the onion rings for 2 minutes on each side and set aside on paper towels. Remove the patties from the fridge and fry for two minutes on each side until golden brown.
4. Place a deep fried burger pattie on a plate and dress with mustard, onion rings, pickles, tomatoes, and lettuce. Cover with a second burger pattie and repeat. Serve with potato wedges and your favorite condiments. Enjoy!
Similar recipes from Chefclub