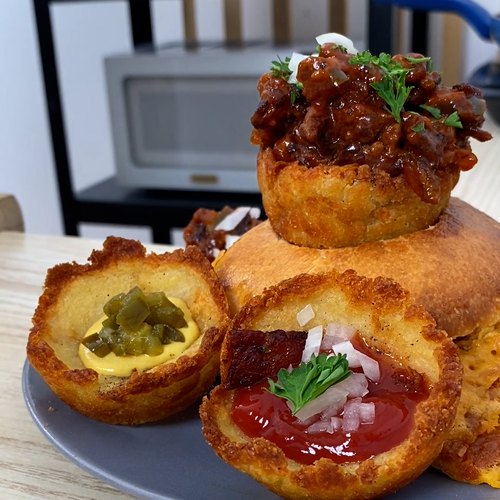 Sloppy Joe Tater Tot Sliders
This is how we do comfort food 🍔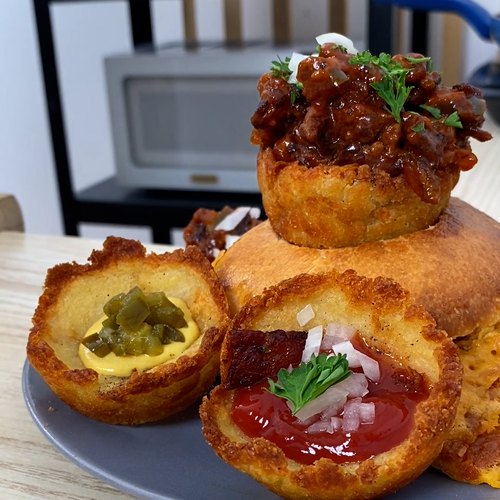 ---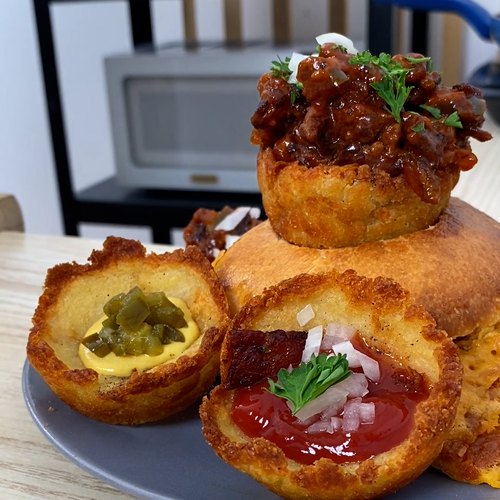 ---
Ingredients for 4 people
2 tbsp of butter
48 tater tots
potato
1 lb of ground beef
3 cloves garlic
1/4 cup of green pepper, chopped
1/4 cup of onion, chopped
1 tbsp of tomato paste
3/4 cup of ketchup
2 tbsp of brown sugar
1 tsp of mustard
1/2 tsp of chili powder
1/2 tsp of worchestershire sauce
salt & pepper
3 cups of grated cheddar
4 hamburger buns
parsley
---
Tools
Muffin tin
Electric griddle
---
Step 1/3
Place the muffin tin in the oven as you preheat it to 350 °F. Remove the tray after it's heated and rub a block of butter over the tin to grease it. Add 4 tater tots to each cup and smash with a potato. Bake for 25 minutes at 350 °F.
Step 2/3
In a large frying pan over medium heat, brown the ground beef, about 5 minutes. Meanwhile in a bowl mix the garlic, green pepper, onion, tomato paste, ketchup, 1/3 cup water, sugar, mustard, chili powder, Worchestershire sauce, salt, and black pepper. Continue to cook over medium to medium low heat for about 12-15 minutes.
Step 3/3
On a griddle, spread out the grated cheddar cheese and let melt into 1 large rectangle. Add your burger buns on top, open-face down. Remove the cheese rectangle from the griddle once the cheese is nice and crispy. Fold the top buns over so that they sit on the bottom buns. With scissors, cut out a small circular groove from the top of each bun and then lace 1 tater tot cup in each groove. Dress the burgers with the sloppy joe mix and serve with remaining tater tot cups. Sprinkle with parsley and onion. Enjoy!