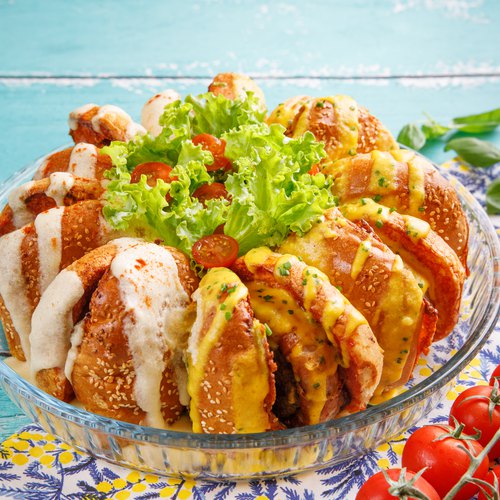 Burger Party
Burger Party! Burgers so good, they deserve a party of their own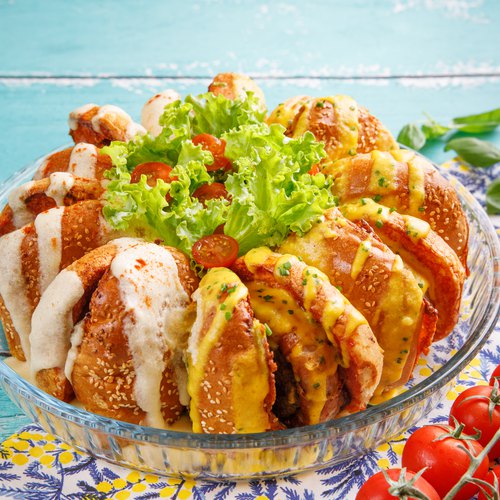 ---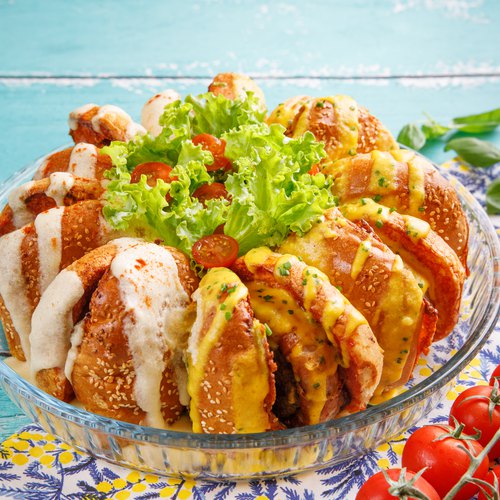 ---
Total time: 30 minutes
Prep time: 5 minutes, Cook time: 25 minutes
Ingredients for 8 people
3 onions
Chives
8 cherry tomatoes
8 hamburger buns
Lettuce
Salt & pepper
1 lb of ground beef
1/2 lb of monterey jack cheese
1/2 lb of cheddar
2 tbsp of flour
2 jalapeños
Ketchup
2 cups of milk
24 slices of bacon
Jack daniel's
---
Step 1/4
Shape the ground beef into balls, skewer together and coat in Jack Daniel's. Wrap onion rings in bacon, cook on the plancha and place the beef balls in the onion rings. Sprinkle 4 oz of both cheeses in circles and add jalapeño slices on top. Once crispy, place the cheese on top of the beef.
Step 2/4
Garnish the burger buns with ketchup and the onion ring and beef patties. Place the burgers in a baking dish, sideways. Bake 10 minutes at 350°F.
Step 3/4
Combine 1/4 cup milk and 1 tbsp of flour in each saucepan; stir with a whisk. Stir in remaining 3/4 cup milk and salt to taste. Bring to a boil over medium heat, stirring frequently. Stir in the monterey jack cheese into one pot and the cheddar into the other, stirring until the cheese melts.
Step 4/4
Remove the burgers from the oven. Pour the monterey jack cheese sauce over one half of the burgers, then pour the cheddar sauce over the other half. Add shredded lettuce and halved cherry tomatoes to the center of the burger ring. Garnish with chopped chives, serve and enjoy!