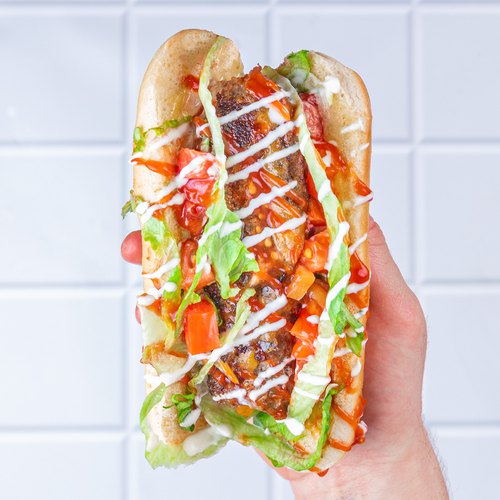 Juicy Lucy Burger Dog
Juicy Lucy Burger Dog! With a side of cheese fries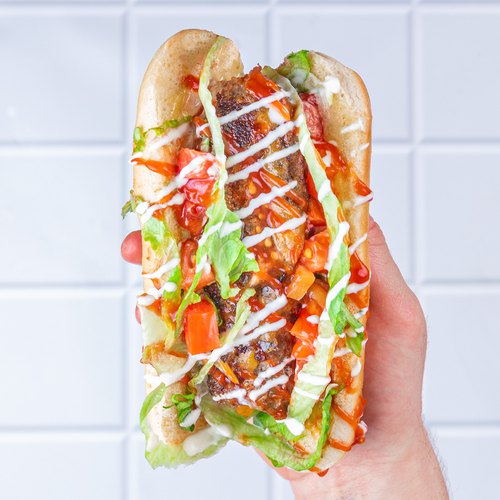 ---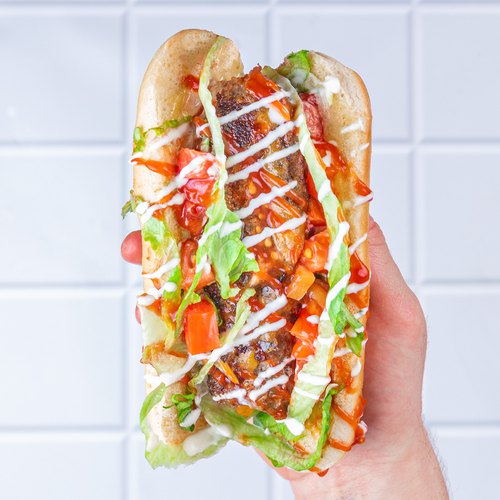 ---
Total time: 30 minutes
Prep time: 5 minutes, Cook time: 25 minutes
Ingredients for 3 people
Hot dog buns
Milk
Egg
Ground beef
Paprika
Salt & pepper
Cheddar
Garlic butter
Lettuce
Bell peppers
Mayonnaise
Ketchup
Red onion
Jalapeños
Baconnaise
---
Tools
parchment paper
---
Step 1/3
Soak a hot dog bun in milk, put it in a bowl with ground beef and eggs. Season with paprika, salt and pepper. Mix well until combined. Place some of the ground beef mixture on a sheet of parchment paper and top with shredded cheddar. Roll into a log shape. Repeat the process with the remaining ground beef.
Step 2/3
Cook the ground beef logs on a hot grill, brush with garlic butter and toast the hot dog buns. Top the buns with baconnaise, lettuce, diced bell peppers and the ground beef logs. Drizzle with mayonnaise and ketchup. Set aside.
Step 3/3
Place the fries on a baking sheet and season with salt, pepper and paprika. Place shredded cheddar on a separate baking sheet, top with red onion and jalapeño slices. Put both baking sheets in the oven and bake until done. Pour the melted cheese over the french fries and place the buns on top. Serve and enjoy!