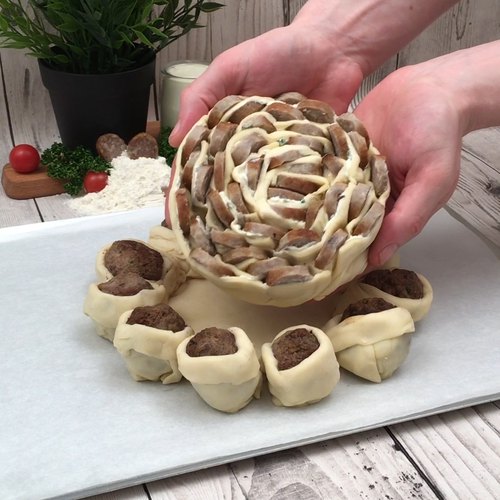 Blooming Meat Flower
Will you accept this rose? 🌹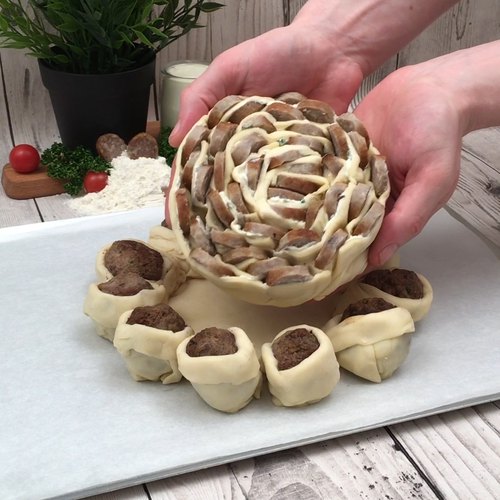 ---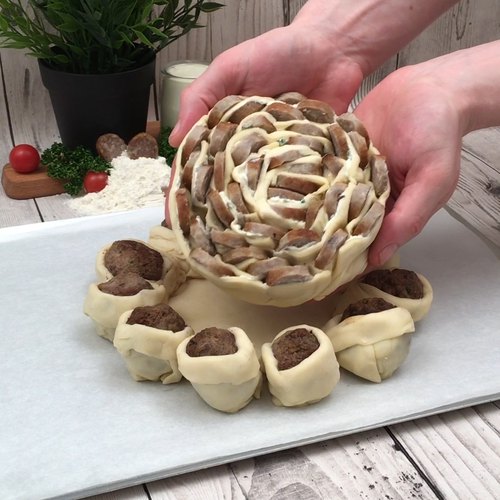 ---
Ingredients for 6 people
1 pound of ground beef
1 red onion, chopped
1 cup of parsley, chopped
1 circle pizza dough
8 ounces of cream cheese
1 square pizza dough
3 beef sausages, cooked
salt and pepper, to taste
ketchup, for garnish
---
Tools
Parchment paper
---
Step 1/3
in a bowl, combine ground beef, red onion and 1/4 cup of parsley. Mix well and form 9 meatballs. Fry meatballs in a little oil until they are browned on the outside. On a baking tray lined with parchment paper, place the meatballs just inside the edge of the circle of pizza dough. Fold the edge of the pizza dough over the meatballs covering them completely. Make a slice in between each meatball, twist the meatball and fold down the pizza dough to expose the top of the meatball. Repeat with each meatball.
Step 2/3
In a bowl, mix together the cream cheese and the parsley. Set aside. Cut the square pizza dough into 5 equal strips. Spread the dough with the cream cheese mixture. Slice the sausages and place the slices along the edge of each strip of dough. Roll the first strip from one end to the other, continue with the second strip by adding it to the roll. Repeat until all strips are rolled together. Place the sausage roll in the center of the meatball dough. Bake for 20 minutes at 350 °F.
Step 3/3
Add ketchup on top of each meatball and sprinkle with parsley to garnish before serving.