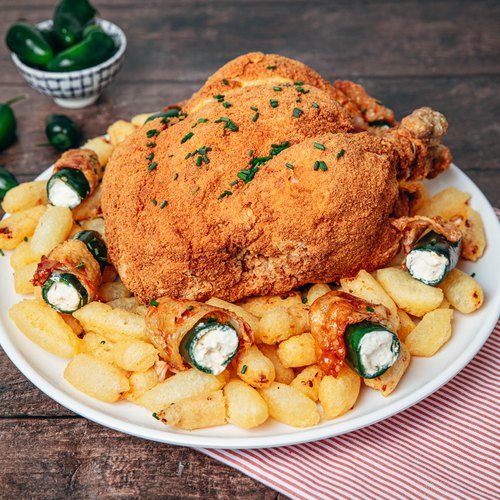 Deep-fried Chicken & Tater Tots
Deep-fried Chicken & Tater Tots! The secret is the garlic conft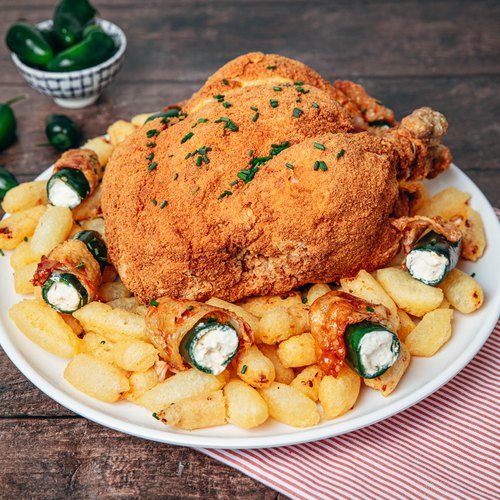 ---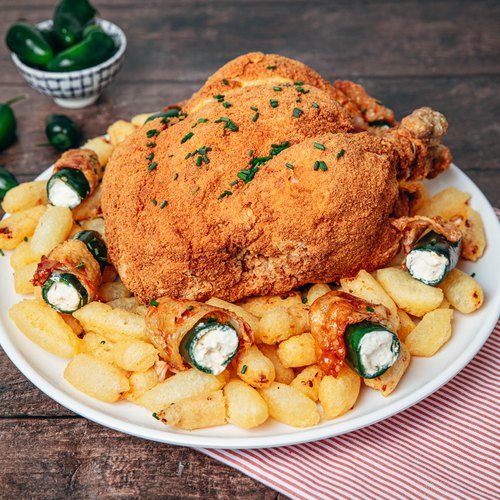 ---
Total time: 45 minutes
Prep time: 5 minutes, Cook time: 40 minutes
Ingredients for 6 people
1 tsp of paprika
1 whole chicken
4 egg
2 cups of breadcrumbs
1 cup of flour
1 tsp of baking soda
1 tsp of onion powder
Frying oil
15 garlic cloves
8 jalapeños
1 cup of cream cheese
2 tbsp of caramelized onions
6 cups of mashed potatoes
Butter
---
Tools
Plastic syringe
Kitchen twine
Piping bag
---
Step 1/3
Remove the center of the jalapeños, garnish with caramelized onions and cream cheese. Wrap the jalapeños in chicken skin and bake 8-10 minutes at 400°F.
Step 2/3
Remove the remaining chicken skin. Fill a syringe with melted paprika butter and garnish the chicken. Coat chicken in flour followed by egg and breadcrumbs. Fill the cavity with garlic and close with kitchen twine. Fry in hot oil until crispy.
Step 3/3
Mix the mashed potatoes with crushed garlic and place in a piping bag. Pipe into hot oil to create tater tots and fry unti golden brown. Serve with the chicken and jalapeños, enjoy!