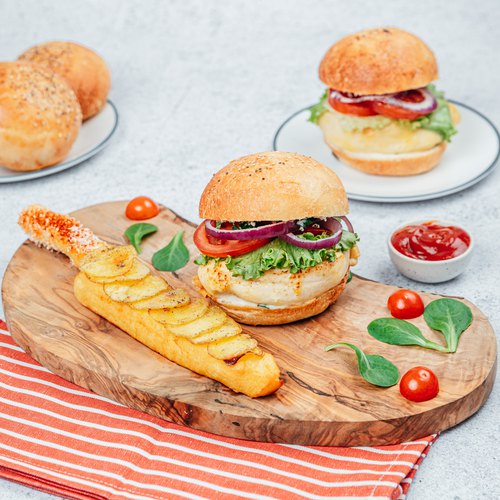 Camembert & Chicken Burger
Camembert & Chicken Burger! With a yummy edible knife 🍔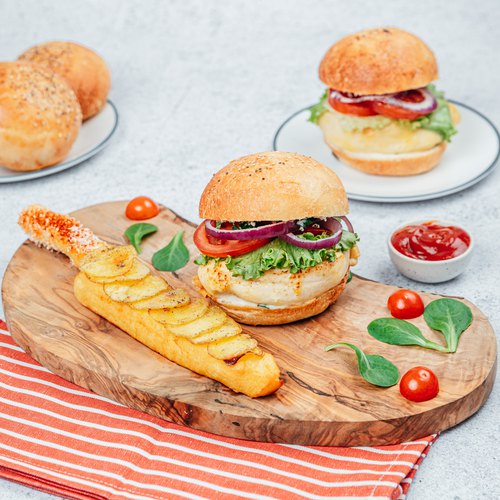 ---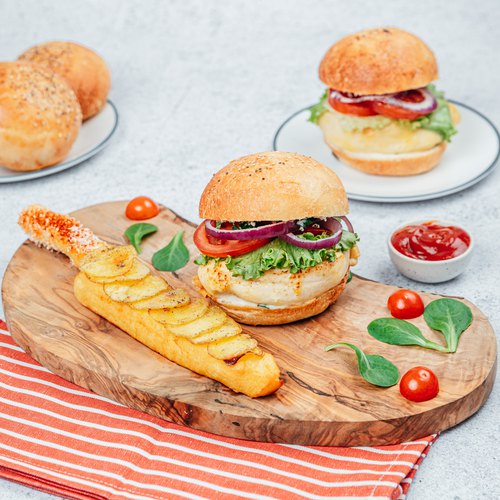 ---
Total time: 2 hours 15 minutes
Prep time: 40 minutes, Cook time: 35 minutes, Rest time: 1 hour
Ingredients for 3 people
3 chicken breasts
3 camembert cheeses
2 cups of red onions
1 tbsp of sugar
3 hamburger buns
Rosemary
Olive oil
Salt & pepper
4 tomatoes
10 potatoes
4/5 cup of flour
Oil
1 tsp of paprika
1 cup of breadcrumbs
2 egg
Butter
Salad
Chives
Cherry tomatoes
Cream cheese
---
Tools
Toothpicks
---
Step 1/5
Cut off the top of the camemberts and wrap each camembert in a chicken breast cut in half. Peel the red onion, cut half into small pieces and the other half into rings. Brown the pieces of red onions in a saucepan with the sugar until you obtain a compote. Place a teaspoon of onion compote and a sprig of rosemary on each camembert, then close with the crust. Stick a toothpick in each piece of chicken to hold it together, pour the olive oil on the hot griddle, add the chicken, season with pepper, cover and allow to cook.
Step 2/5
Arrange the burger buns on a wooden board with ettuce and chopped cherry tomatoes. Mix the cream cheese and the chopped chives, spread the mixture on the burger buns. Add the chickens and camembert and the remaining red onion in rings.
Step 3/5
Peel and cook 7 potatoes in a pot of boiling water. Drain and mash them, then spread the mashed potatoes on a baking sheet. Cover the blades of the large knives with mashed potatoes with a spatula to form mashed knives. Set them aside for 1 hour in the freezer.
Step 4/5
Wash and cut the remaining potatoes, place them on a baking sheet with a drizzle of olive oil, season with salt and pepper and bake for 20 minutes at 350°F.
Step 5/5
Take out the mashed potatoes and unmold them. Beat the eggs, roll the handles of the mashed potatoes in the flour, in the eggs and in the breadcrumbs. Dip them in the frying oil and let them fry. Drain and place the mashed potatoes on a plate and sprinkle the paprika. Arrange the knives next to the burgers, serve and enjoy!