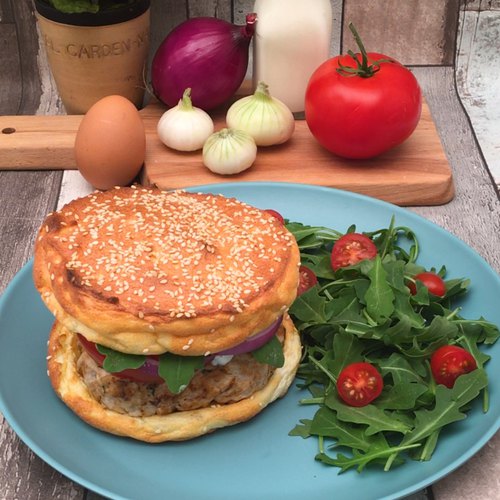 Guilt-free Burger
Who needs a "cheat meal" when every meal can taste this great? Per portion: only 280 calories!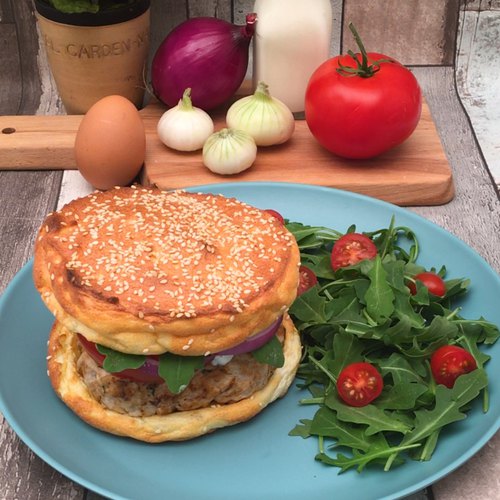 ---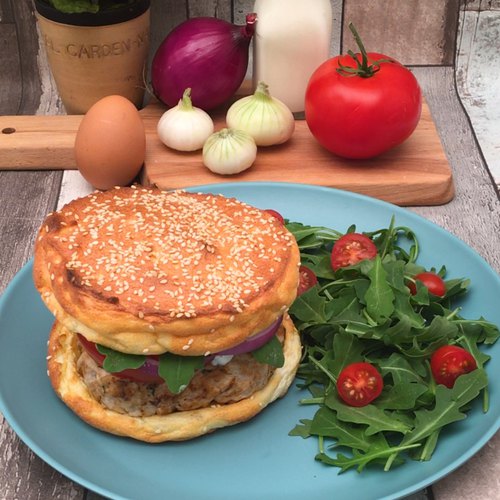 ---
Ingredients for 2 people
8 oz of sour cream
2 eggs
1 tsp of baking powder
1/2 white onion, chopped
sesame seeds
1 red onion
2 chicken breasts
1/2 lemon, juiced
garlic
basil
2 tomatoes
lettuce
chives
salt & pepper
---
Tools
Cookie cutter
Parchment paper
Baking tray
---
Step 1/3
Mix 1/2 of the sour cream with egg yolks and baking powder. Whisk the egg whites until stiff and fold into the mixture. Use a cookie cutter to form 4 burger buns on a lined baking sheet. Sprinkle sesame seeds on 2 of them and bake for 10 minutes at 400 °F.
Step 2/3
Dice the chicken breasts, then mix with white onion, lemon juice, garlic, basil, salt, and pepper. Form 2 patties with the cookie cutter. Heat oil in a skillet and cook the burgers until the chicken is cooked through.
Step 3/3
Mix together the rest of the sour cream, chives, salt, and pepper to make a sauce. Place a chicken burgers on the buns, add tomato, red onion, lettuce, and the sauce. Top with the second bun and enjoy!