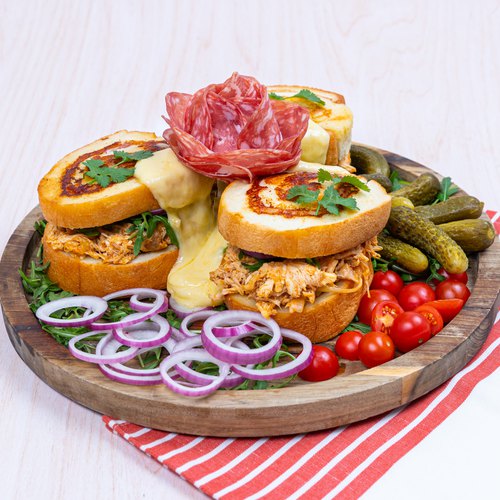 Spiral Chicken Burger
Spiral Chicken Burger! Give this recipe a whirl 🍗🥪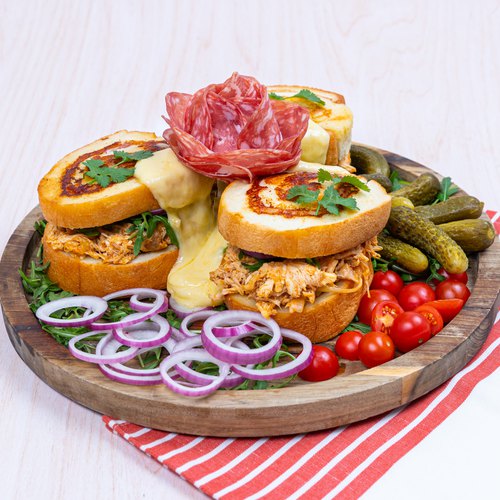 ---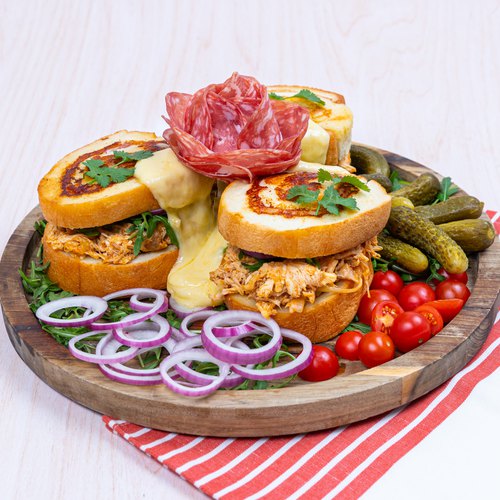 ---
Total time: 1 hour 10 minutes
Prep time: 25 minutes, Cook time: 45 minutes
Ingredients for 3 people
1 whole chicken
2.2 cups of butter
2 onions
Herbs
1 garlic head
1 lemon
Paprika
1 reblochon cheese
4 slices of bread
6 slices of bacon
Chives
1 red onion
Arugula
---
Tools
Rolling pin or metal rod
---
Step 1/4
Place the chicken in a dish, melt the butter with the paprika and pour it over the chicken. Garnish the chicken with the peeled and chopped onions, the herbs and the peeled garlic cloves. Season with salt, squeeze the juice from half a lemon and place it in the chicken. Bake for 45 minutes at 350°F.
Step 2/4
Remove the bones and thinly shred the warm chicken. Form a well in the middle of the flesh and pour in the cooking juices, chopped onions and lemon juice. Mix well, then set aside in a bowl.
Step 3/4
Melt the Reblochon in a saucepan. Cut the slices of bread in length, flatten them and superimpose them on the plancha. Pour the melted cheese over the sandwich bread, add the slices of bacon and the chopped chives. Roll it all up lengthwise. Heat the roll on the plancha for a few minutes, cut it into slices to create buns and brown them with butter on each side.
Step 4/4
Arrange a bun on a bed of arugula, add the shredded chicken, a few arugula leaves, the red onion rings and close with another bun. Repeat the process to obtain 3 buns, serve and enjoy!