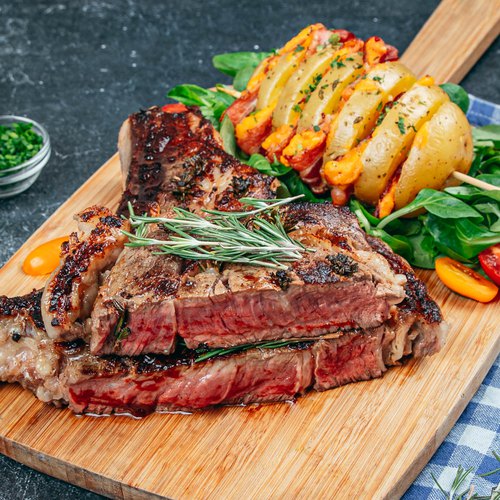 Ribeye Feast & Hasselback Potatoes
Ribeye Feast & Hasselback Potatoes! Bite into this sizzling new recipe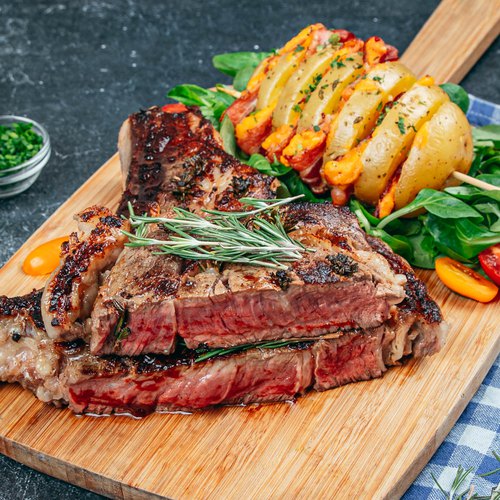 ---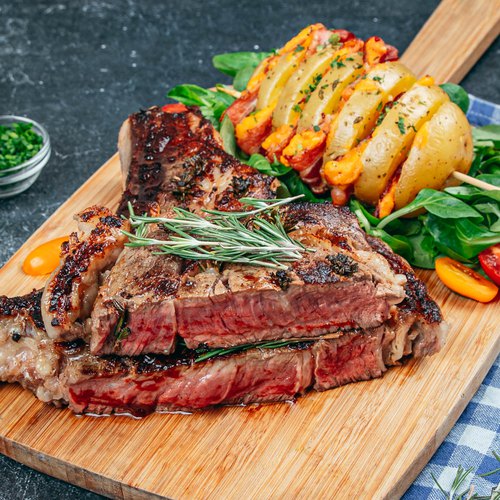 ---
Total time: 7 hours 30 minutes
Prep time: 30 minutes, Cook time: 1 hour , Rest time: 6 hours
Ingredients for 4 people
2.2 lbs of ribeye steak
2 cups of buttermilk
5 tbsp of butter
1 tsp of garlic powder
16 slices of bacon
16 slices of cheddar
4 potatoes
4 tbsp of sour cream
Chefclub bbq spice mix
Rosemary
Salt & pepper
Coarse salt
Chives
---
Tools
Cling wrap
Aluminum foil
parchment paper
---
Step 1/4
Insert sprigs of rosemary into the ribeye and place it in a glass baking dish. Pour half of the buttermilk over the meat, season with salt, then flip the roast and pour the remaining buttermilk. Cover with plastic wrap and refrigerate for 6 hours.
Step 2/4
Melt 4 tbsp of butter, add garlic powder, salt, and pepper, then drizzle the melted butter over the meat and roll it in coarse salt and pepper. Cook the ribeye on a hot grill.
Step 3/4
Place the bacon slices on a sheet of parchment paper, add a slice of cheddar cheese on each bacon slice, season with Chefclub BBQ spices, and fold the edges. Slice the potatoes lengthwise and insert the bacon with cheddar between the slices. Place the potatoes in a dish, add the remaining butter, season with salt and pepper. Cover with aluminum foil and bake for 45 minutes at 350 °F.
Step 4/4
Mix the sour cream and chopped chives, and season with salt and pepper. Cut the rib roast into slices, add the chopped chives, and serve with the potatoes and the sour cream sauce. Serve and enjoy!