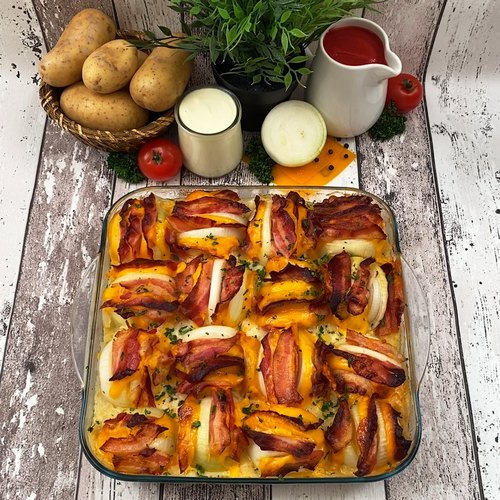 Geometric Onion Casserole
With a hidden layer of cheesy potatoes! 🤭💙🤤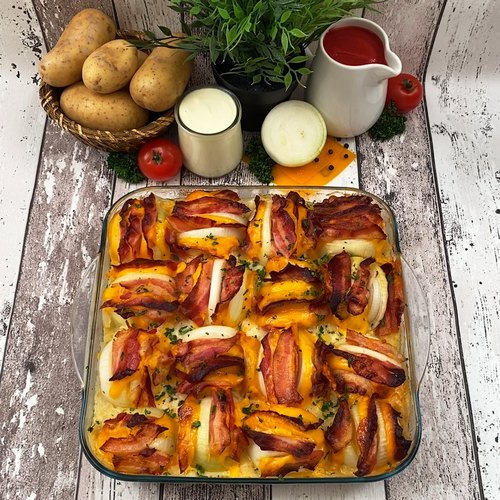 ---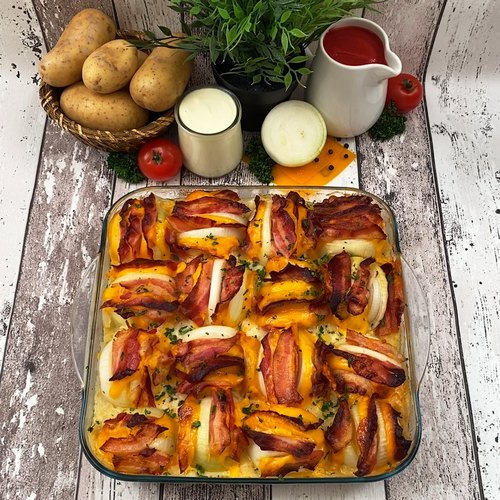 ---
Ingredients for 8 people
1 lb of ground beef
2 cups of tomato sauce
salt & pepper
8 white onions
bacon
cheddar cheese slices
1 1/2 lb of potatoes, peeled
1/2 cup of grated cheddar cheese
2/3 cup of sour cream
1 cup of cream of mushroom soup
parsley
meat seasonings
---
Tools
Cheese grater
Casserole dish
Mixing bowl
Mixing spoon
Skillet
---
Step 1/3
In a skillet, cook together the ground beef, tomato sauce, seasonings, salt, and pepper until meat is cooked through. Drain the grease from the ground beef. Mix in a bit of parsley and spoon into a baking dish, covering the bottom of the dish.
Step 2/3
Cut the onions in half. On the outside of each onion half, make 4 slits and remove any loose onion pieces. Place slices of bacon and cheese between each onion slice.
Step 3/3
Grate potatoes into a mixing bowl. Mix in grated cheese, sour cream, cream of mushroom soup, salt, and pepper. Spoon a layer over the ground beef. Cover with onion halves and bake for 30 minutes at 350 °F. Garnish with parsley and enjoy!