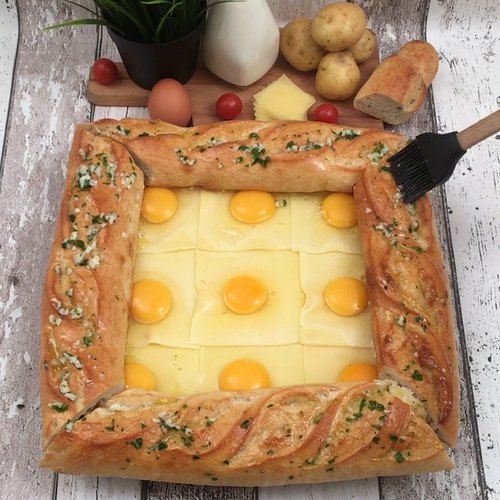 Garlic bread Shepherd's pie
A twist in an all time classic! Eat it! 😍🥖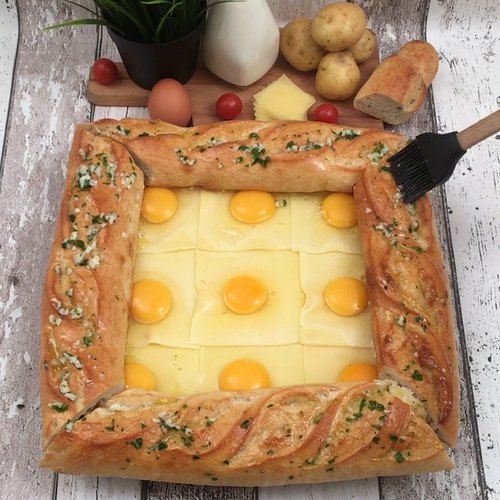 ---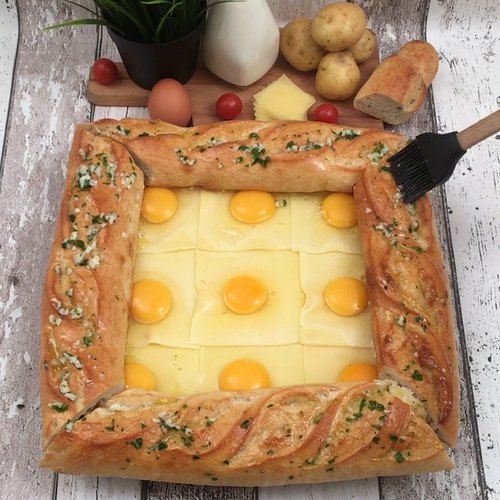 ---
Ingredients for 9 people
2 baguettes
1/3 cup of butter, melted
2 cloves garlic
6 potatoes
2/3 lb of ground beef
1 onion
9 slices of swiss cheese
9 eggs
parsley
salt & pepper
---
Tools
Square casserole dish
---
Step 1/4
Cut the baguettes into 4 pieces the size of one side of the casserole dish and cut open each piece, slicing through the bottom. Melt 1/4 cup butter and mix with chopped garlic, chopped parsley, salt, and pepper. Brush the inside of the baguettes with this mixture.
Step 2/4
Peel the potatoes, boil in salted water, and mash them with the remaining butter. Brown the ground beef with the chopped onion, salt, and pepper. When it is cooked, spread the beef on the bottom of the casserole dish and cover it with the mashed potatoes.
Step 3/4
Arrange the slices of swiss cheese over the mash so that the whole dish is covered. Press with your fingers to form small hollows in the center of each slice and crack an egg into each.
Step 4/4
Hold each piece of bread on one side of the dish by inserting the edge into the open part of the baguette. Brush the bread with the butter and garlic mixture and bake for 30 minutes at 350 °F. Remove from the oven, cut into squares, and enjoy by dipping the garlic bread in the melted cheese.