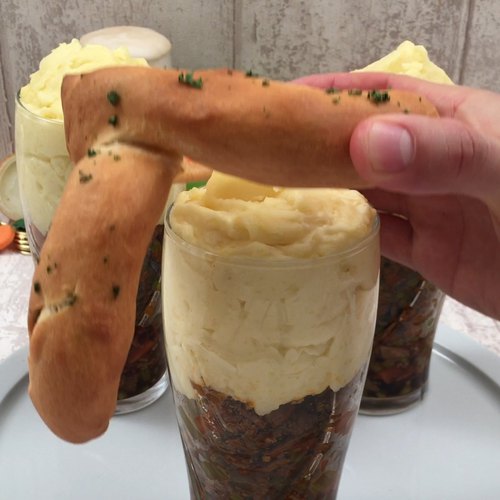 A Pint of Shepherd's Pie
The perfect St. Paddy's Day dinner! 🍻☘️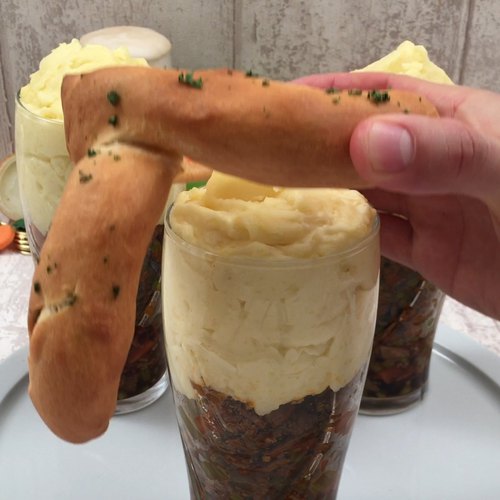 ---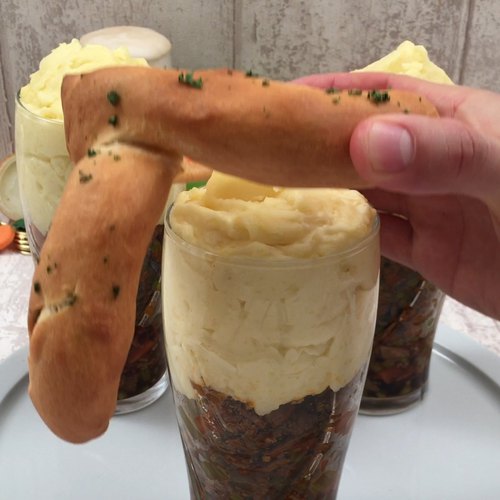 ---
Ingredients for 3 people
1 pizza dough
1/2 butter
salt
2 tbsp of parsley, chopped
1 lbs of ground beef
1 onion, diced
2 carrots, diced
2 stalks celery, diced
2 1/2 cups of mushrooms, chopped
4 cloves garlic
3/4 cup of frozen peas
1 tbsp of tomato puree
2 tsp of worcestershire sauce
1 can of guinness ®
5 sprigs of fresh thyme
2 sprigs of fresh rosemary
2 bay leaves
4 potatoes, peeled and boiled
1/4 sour cream
1/2 cup of milk
cheese sauce
---
Tools
Coffee mugs
Pint glasses
Kitchen twine
---
Step 1/3
Roll the pizza dough into a log, cut into 3, and roll out each portion into a long strip. Starting at the top of the handle, wrap a strip of dough around the lip of each coffee mug and down the contour of the handle. Brush the dough with melted butter, sprinkle with salt and chopped parsley, and bake on a baking tray for 15 min at 350 °F.
Step 2/3
In a pan over medium-high heat, brown the beef in a little oil with a pinch of salt. Add the onion, carrot, celery, mushroom, garlic, and another pinch of salt and cook until vegetables soften. Add the peas, tomato puree, Worcestershire sauce, and Guinness ®, stir to combine, and add the thyme, rosemary, and bay leaves, tied up with kitchen twine into a bouquet. Reduce heat and simmer until sauce thickens and fill each pint glass with 1/3 of the meat sauce.
Step 3/3
Mash the potatoes with 1/4 cup of butter, the sour cream, milk, and a good pinch of salt. Fill the rest of each pint glass with mashed potatoes, place bread handle on each glass, pour cheese sauce overtop of the mashed potatoes, and sprinkle with chopped parsley. Use the bread handle to dip into the cheese sauce and potatoes, and enjoy!