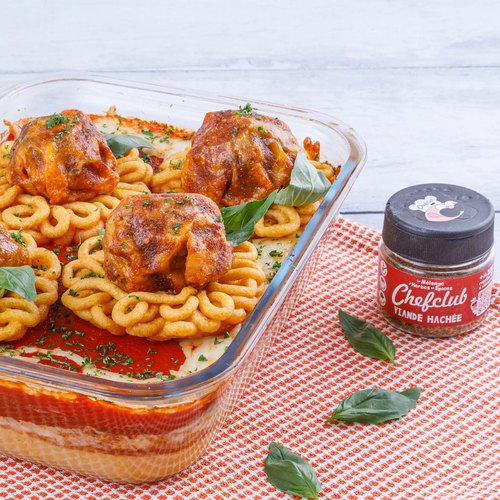 Flowery Cottage Pie
Flowery Cottage Pie! A hearty dish the whole family will love 🌸😍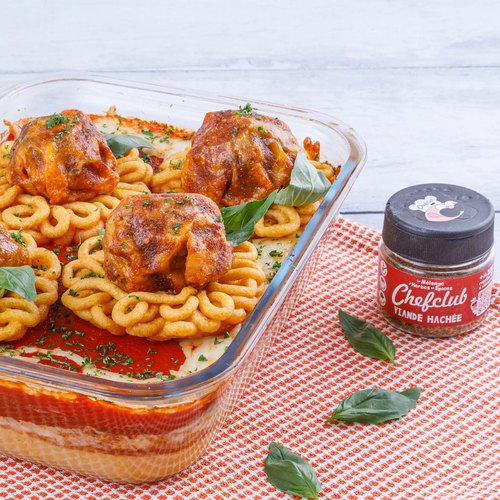 ---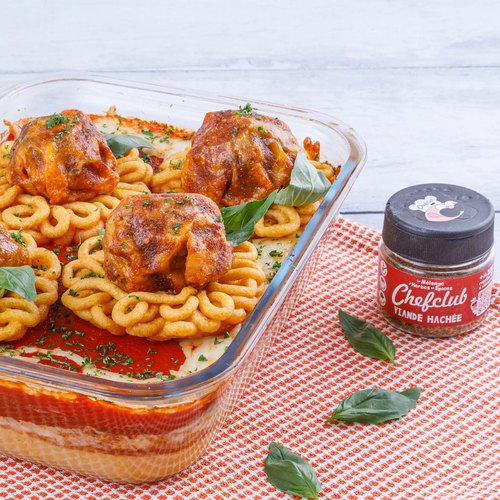 ---
Total time: 1 hour 5 minutes
Prep time: 35 minutes, Cook time: 30 minutes
Ingredients for 4 people
1.3 lbs of ground beef
2 tbsp of chefclub ground beef seasoning
1 onion
4 tbsp of sugar
2 tbsp of butter
1.3 lbs of potatoes
6 egg
8 tbsp of cornstarch
1 tbsp of paprika
1/2 cup of bechamel sauce
1/2 cup of tomato sauce
3/5 cup of shredded mozzarella
3/5 cup of shredded cheddar
1 tsp of parsley
1 tsp of basil
Salt & pepper
Vegetable oil
---
Tools
Cling wrap
Electric hand mixer
Skewers
Freezer bag
Melon baller
---
Step 1/4
Wrap each of the eggs in cling wrap. Spread the ground beef in a dish. Gently push the eggs halfway into the ground beef to form 9 holes then remove the eggs. Break 3 eggs, separate the white from the yolks and pour each egg yolk into 3 holes of the ground beef.
Step 2/4
Peel and cut the onion into pieces. Place in a hot saucepan with the sugar and butter, then let everything caramelize over low heat. Pour the caramelized onions into three holes of the ground beef. Sprinkle Chefclub ground beef seasoning in the last 3 holes. Mix everything together using the electric mixer. With the help of a dish press down into the meat to smooth everything. Form 4 balls of ground beef using the melon baller before placing them on the hot griddle and cooking them with butter. Shift the meatballs to the side of the plancha, pour a quarter of the cheese mixture into the center of the plancha and let it brown. Stick a skewer into a ball of meat before rolling it in the cheese. au gratin. Repeat the process for all the meat balls before setting them aside on a plate.
Step 3/4
Peel and cook the potatoes in a pot of boiling water before mashing them. Crack 3 eggs, incorporate them into the mashed potatoes before adding the cornflour and mixing. Separate the mashed potatoes in two and season one half of the puree with the paprika, then pour it into a freezer bag. Cut the corner of the freezer bag and pour the mashed potatoes (forming swirls) onto a ladle dipped in frying oil. Leave the ladle in the oil until it holds together and repeat the process to obtain 4 crowns of crispy mashed potatoes. Drain the crowns, place them on a plate and season with paprika.
Step 4/4
Spread the remaining mashed potatoes in the bottom of a baking dish, then add the remaining ground beef before spreading it. Cover the whole thing with tomato sauce, then with béchamel and place the remaining grated mozzarella on the edges of the dish before baking for 30 minutes at 350°F. Place the crowns on the dish then place the meatballs in the center of the crowns. Sprinkle parsley and basil on top and enjoy!