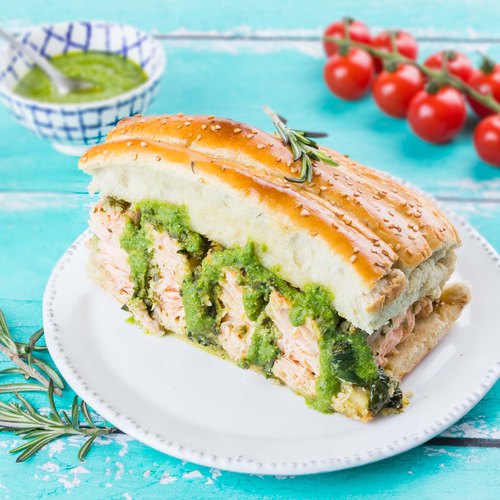 Rustic Salmon & Pesto Sandwich
Rustic Salmon & Pesto Sandwich! The perfect grab-and-go snack 😀🐟🥪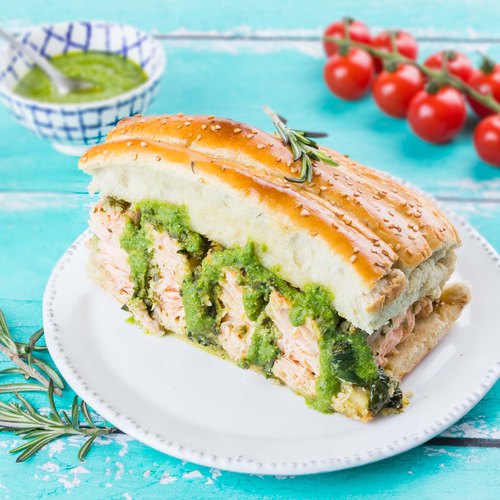 ---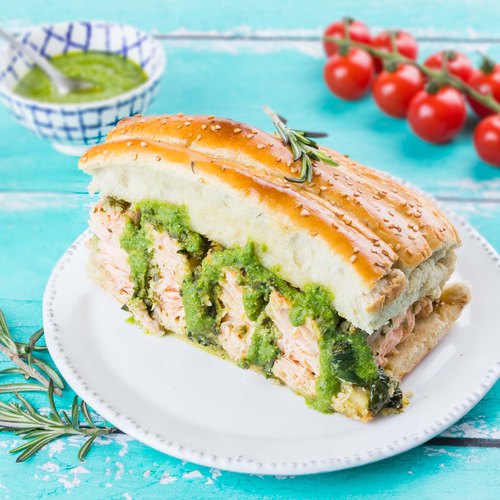 ---
Total time: 2 hours 25 minutes
Prep time: 35 minutes, Cook time: 40 minutes, Rest time: 1 hour 10 minutes
Ingredients for 4 people
2 tsp of yeast
1 tbsp of sugar
1 1/2 cups of flour
Salt & pepper
1 tbsp of olive oil
Parsley
Chives
1 cup of bread crumbs
1 lb of salmon
3 tbsp of pesto
7 leaves of spinach
7 leaves of basil
3 1/2 oz of shredded mozzarella
1 egg yolk
Rosemary
2 tbsp of sesame seeds
Lemon juice
---
Tools
parchment paper
Rolling pin or metal rod
---
Step 1/3
Mix the dry yeast, the sugar and 0.6 cup of lukewarm water and let stand for 10 minutes. Mix 10 tablespoons of flour, salt and olive oil until combined. Add to the preparation of yeast and sugar. Add the rest of the flour and mix until you create a smooth ball of dough. Allow to rise to 30 minutes at room temperature.
Step 2/3
Soften the butter, chop the parsley and chives. Mix the butter, parsley, chives, lemon juice, bread crumbs, season with salt and pepper. Spread the spiced butter on a rectangle of parchment paper and cover it with another rectangle of parchment paper. and flatten it with a rolling pin and set aside for 30 minutes in the freezer. Make slits on the salmon fillet an spread the pesto inside the slits. Garnish the slits with the spinach and basil leaves and season with salt and pepper. Place the spicy butter crust on the salmon and bake for 25 minutes at 350°F.
Step 3/3
Cut the dough into 5 strips using a pizza cutter. Place the strips of bread dough in a rectangular dish, alternating a strip of dough and a row of grated mozzarella. Brush with egg yolk and add the rosemary and sesame seeds. Bake for 15 minutes at 430°F. Cut the bread in 2 lengthwise, spread the rest of the pesto, place the salmon and place the other part of the bread. Enjoy!