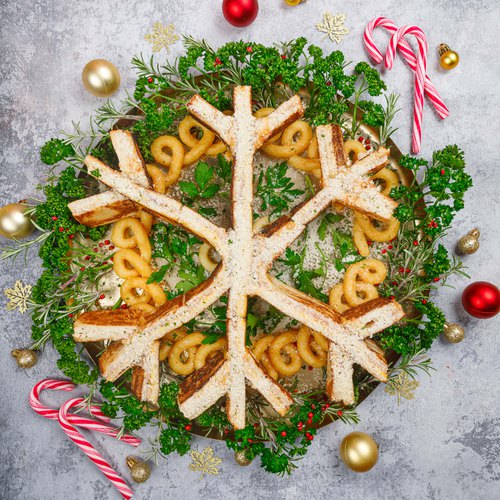 Special Snowflake Sandwich
Special Snowflake Sandwich! This recipe is snow laughing matter 😋❄️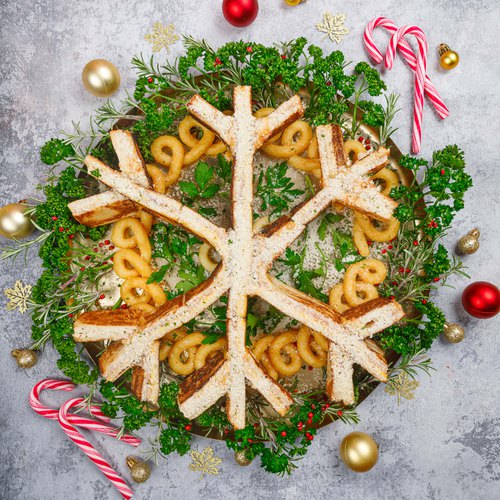 ---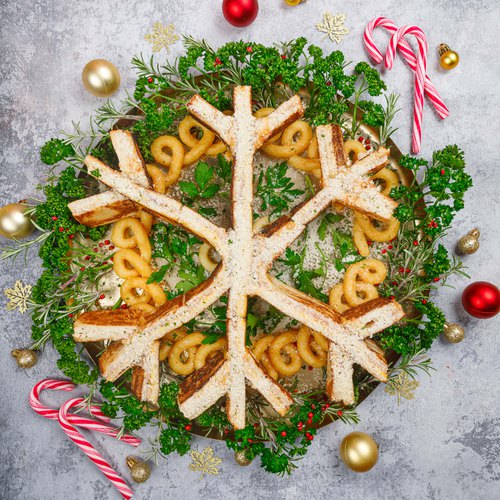 ---
Total time: 40 minutes
Prep time: 40 minutes
Ingredients for 6 people
4/5 lb of potatoes
4/5 cup of milk
2 tsp of heavy cream
4 egg
12 slices of bread
4 slices of ham
3 oz of cheddar
3 oz of mozzarella
4 1/2 oz of parmesan
12 slices of emmental cheese
Parsley
Rosemary
Oil
---
Tools
Ziplock bag
Squeeze bottles
---
Step 1/4
Peel and cut the potatoes into pieces and cook them in 1 liter of salted water. Mash the potatoes, mix them with the milk until smooth. Add the heavy cream then put it in a ziplock bag.
Step 2/4
Place a grill upside down in the hot oil, form a spiral pattern with the mashed potatoes all around the grill, fry both sides then drain the mashed potato decoration. Separate the yolk and the white of the eggs, place them separately in squeeze bottles, pour the yolk and the white of the eggs on the griddle, forming a rectangle. Place the sandwich loaves on the egg rectangle, butter the sandwich loaves, flatten the sandwich loaves then turn them over to cook the other side.
Step 3/4
Place 1 slice of emmental on each slice of bread. Place 1 slice of ham on each slice of the emmental then cover with the rest of the emmental slices. Place the rest of the slices of bread on the emmental, butter the slices of bread, flatten them then turn them over to cook the other side.
Step 4/4
Cut the slices of sandwich bread glued in 2. Ccut the other slices in 2 again then mix the cheddar and the grated mozzarella together. Place 2 handfuls of the cheese mixture on the griddle. Place the melted cheese at the end of a slice then seal the slice onto the large slice. Repeat the process to form a snowflake. Sprinkle the parmesan, place it on the plate with the crown of mashed potatoes. Add rosemary and parsley leaves. Sprinkle with more parmesan and parsley. Serve and enjoy!