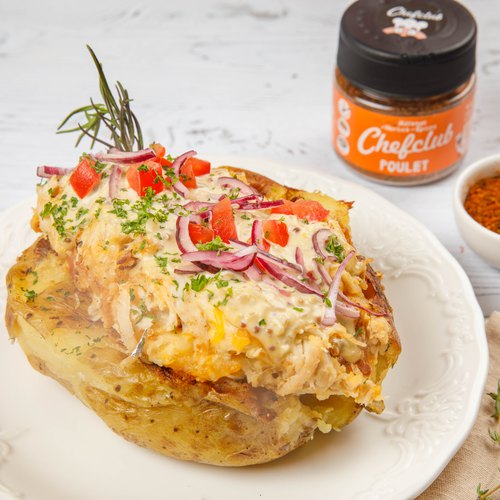 Good Cluck Chicken & Potatoes
Good Cluck Chicken & Potatoes! There's no fowl play with this delicious recipe 😚🐔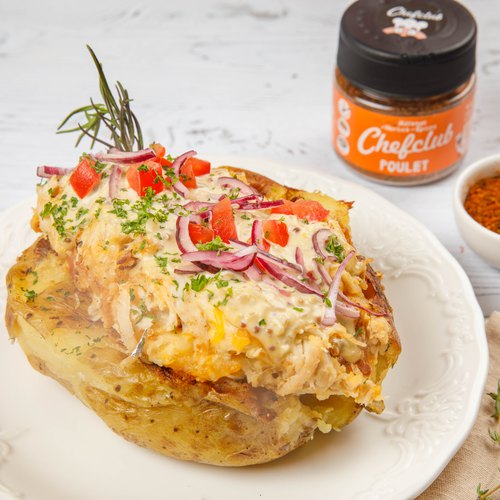 ---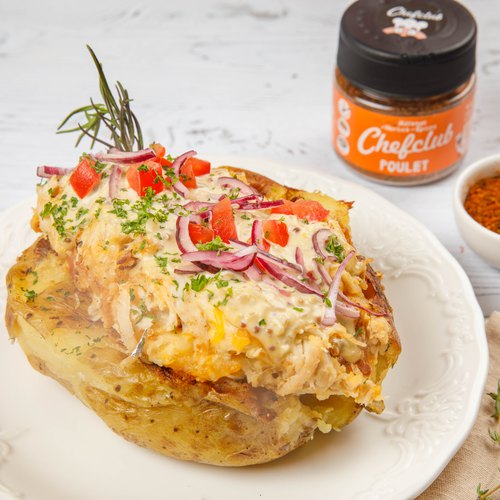 ---
Total time: 2 hours 40 minutes
Prep time: 40 minutes, Cook time: 2 hours
Ingredients for 3 people
2 1/2 lbs of coarse salt
Chefclub roast chicken seasoning
1 egg
3 chicken breasts
3 cloves garlic
3 potatoes
6 tbsp of olive oil
1 red onion
1 tomato sauce
6 tbsp of butter
3 1/2 oz of mozzarella
3 1/2 oz of cheddar
Rosemary
Parsley
Salt & pepper
Mustard
---
Tools
parchment paper
Aluminum foil
---
Step 1/4
Separate the white from the egg yolk. Mix the coarse salt, the Chefclub roast chicken seasoning and the egg whites until you obtain a smooth mixture. Place the chicken breasts on a baking tray lined with parchment paper, place the rosemary and a clove of garlic on each piece then layer them. Cover the chicken with the coarse salt mixture then bake for 1 hour at 350°F.
Step 2/4
Cut 3 squares of aluminum foil, cover them with parchment paper then place 1 potato in each square of parchment paper. Pour 1 drizzle of olive oil on each potato, season them with salt and pepper then cover them with aluminum foil. Prick the aluminum with a fork then bake for 1 hour at 350°F.
Step 3/4
Slice the red onion, cut the tomato into pieces and set them aside. Break the salt crust, crumble the chicken inside, flatten the potatoes in the aluminum using a rolling pin then cut each aluminum lengthwise. Add 2 tbsp of butter in the space in the center then cook the open side of the aluminum on the griddle.
Step 4/4
Mix the grated mozzarella and cheddar, sprinkle the cheese mixture on the griddle and let it cook to form a cheese crust. Sprinkle the chicken crumble on the cheese crust, add a tablespoon of mustard. Place the foil on the open side to bind the foil and the chicken and cheese preparation. Repeat the process for each one. Place on a plate and add a tablespoon of mustard to each. Sprinkle with red onion, diced tomato and parsley. Serve and enjoy!