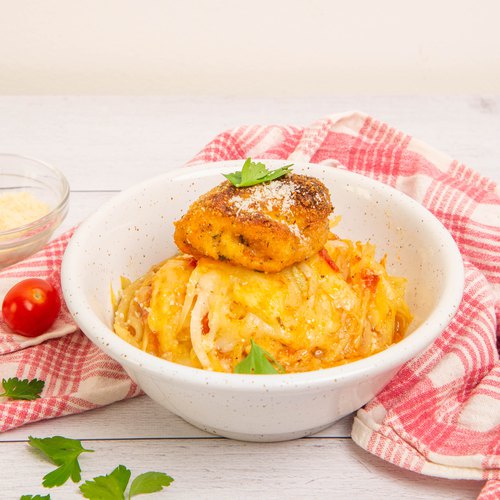 Cheesy Chicken Bombs
Cheesy Chicken Bombs! Exploding with flavor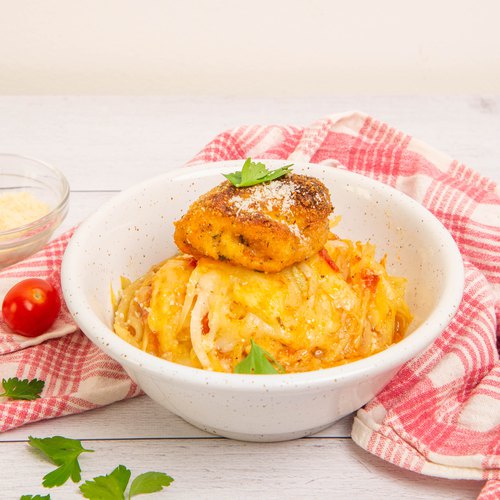 ---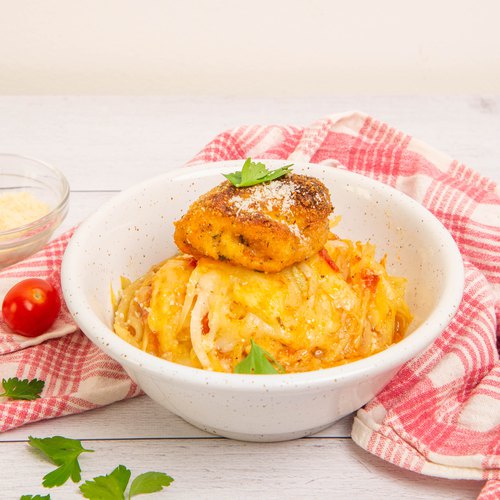 ---
Total time: 1 hour 40 minutes
Prep time: 5 minutes, Cook time: 35 minutes, Rest time: 1 hour
Ingredients for 3 people
Mozzarella
5 potatoes
3 cups of breadcrumbs
1 cup of tomato sauce
6 slices of provolone
4 chicken breasts
2 tbsp of water
3 egg
Oregano
Oil
Parmesan
---
Tools
parchment paper
---
Step 1/4
In a mixing bowl, add the tomato sauce, shredded mozzarella, and 1 cup of Italian breadcrumbs. Pound the chicken breasts and cut into thirds. Place a spoonful of the tomato mixture into the center, wrap the chicken breast to form a ball. Place the meatball on your baking tray lined with parchment paper. Repeat the process for all of the meatballs and then place in the freezer for 1 hour.
Step 2/4
Peel the potatoes and then cut thinly to create spaghetti potatoes. Place in a bowl with water for 5 minutes.
Step 3/4
Coat the meatballs in flour followed by egg and breadcrumbs. Fry in hot oil until golden brown.
Step 4/4
In your cast iron skillet, add ½ of the potatoes. Whisk the tomato sauce, water, and oregano. Pour over the potatoes and then add the slices of provolone cheese. Add the rest of the potatoes and place the meatballs on top. Sprinkle with parmesan and bake 25 minutes at 350°F. Serve and enjoy!