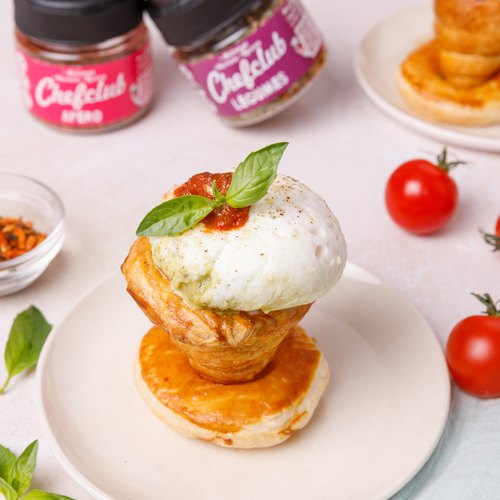 Pastry Cup Soft Boiled Eggs
Pastry Cup Soft Boiled Eggs! A fancy new way to eat your eggs 🥚🥐🧀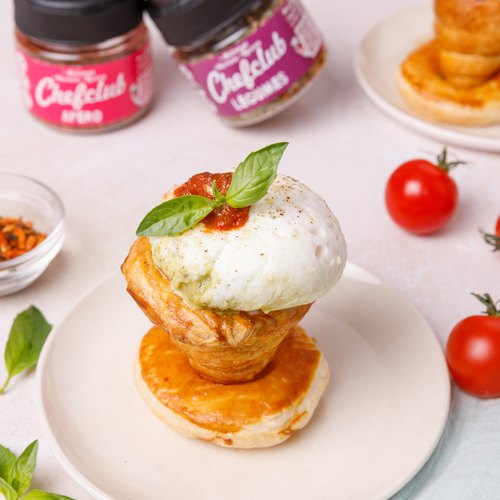 ---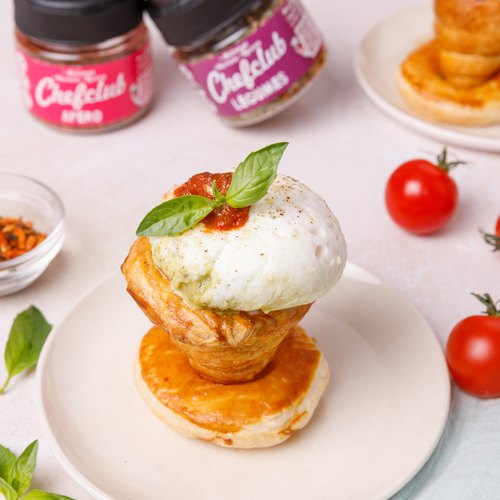 ---
Total time: 40 minutes
Prep time: 25 minutes, Cook time: 15 minutes
Ingredients for 3 people
3 egg
1 tsp of tomato sauce
1 tsp of pesto
1 black olive
1 tsp of mozzarella
1 tbsp of chefclub appetizer seasoning
3 slices of bacon
1 3/4 oz of parmesan
1 puff pastry
1 tbsp of chefclub vegetable seasoning
1 egg yolk
3 tbsp of sour cream
3 tbsp of onion confit
Cherry tomatoes
Salad
---
Tools
Cling wrap
parchment paper
Plastic bottle
Egg carton
---
Step 1/3
Line 3 cups with cling wrap, place an egg in each cup, add the tomato sauce in the first cup, the pesto in the second and a mixture of black olives and grated mozzarella in the third. Close the cups with cling wrap, then poach them in boiling water. Set them aside on a plate. Cook the parmesan on a grill and separate the parmesan into 3. Sprinkle with Chefclub appetizer seasoning then place a slice of bacon on each parmesan tuile. Wrap each parmesan tuile and set aside on a plate.
Step 2/3
Heat a knife, cut a plastic bottle in 2 and use the upper part as a cookie cutter. Cut the puff pastry into 4 strips across the width then cut 3 circles using the bottle. Cut a smaller circle inside the circle with the neck of the bottle, sprinkle the rest of the puff pastry with Chefclub vegetable seasoning. Fold each strip in 2 then roll the strips on themselves. Place the puff pastry rolls in an egg carton with parchment paper on a baking tray. Brush the puff pastry rolls and rounds with egg yolk, bake for 15 minutes at 350°F.
Step 3/3
Garnish the puff pastry rolls with a tablespoon of sour cream, the onion confit and the poached egg. Serve on a plate with salad and cherry tomatoes. Place the puff pastry cones in the rings and the parmesan tuiles on the side. Serve and enjoy!