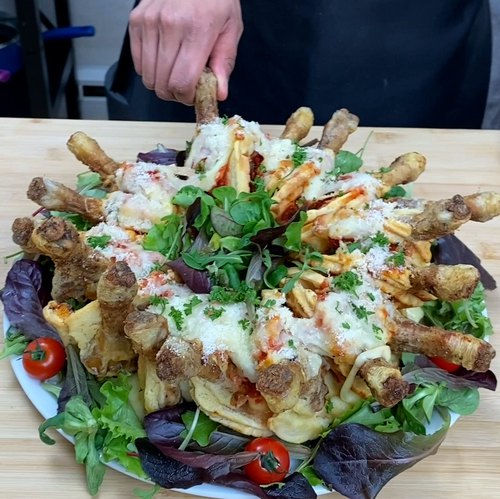 Fried Chicken & Waffles
The perfect food on a drum-stick🍗🧇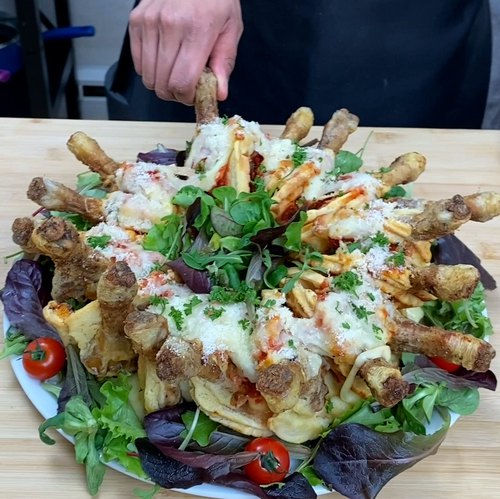 ---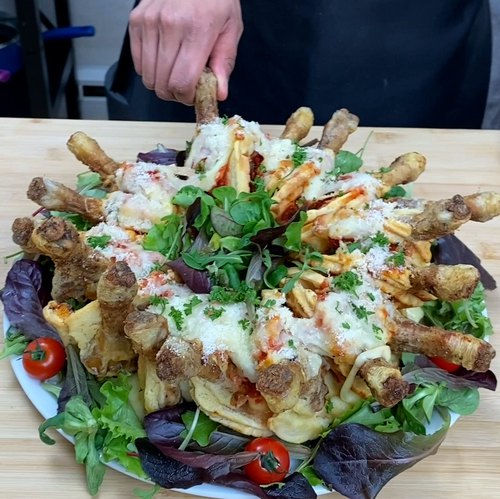 ---
Ingredients for 6 people
4 eggs
2 cups of milk
1/2 tsp of salt
2 tsp of baking powder
2 cups of flour
1/4 cup of melted butter
20 chicken legs
2 tbsp of garlic powder
2 tbsp of oregano
2 tbsp of paprika
salt & pepper
1/4 cup of cornstarch
vegetable oil
2 cups of tomato sauce
19 mozzarella cheese slices
1/2 cup of shredded mozzarella
1/2 cup of grated parmesan
salad
cherry tomatoes
---
Tools
Cooling rack
Springform pan
Mini waffle iron
---
Step 1/4
Separate the egg whites from the egg yolks. Whip the egg whites. Set aside. Whip the yolks until light and creamy. Add the milk, salt, baking powder, flour, and melted butter. Mix until smooth. Set aside.
Step 2/4
In a large bowl, Combine all spices and cornstarch. Add salt & pepper to taste. Add the chicken and toss until well coated. Fry the chicken in hot oil and place on a rack.
Step 3/4
Pour a spoonful of batter on the iron, dip a chicken wing into the batter, and place in the center of the iron. Cook until golden brown on both sides. Repeat until all drumsticks are cooked into the waffle batter.
Step 4/4
Brush each waffle with a small amount of tomato sauce. Line the waffles in a round springform pan with the end of the drumstick sticking out. Add a thick slice of mozzarella between each waffle. Add extra tomato sauce on top of the waffles around the pan. Sprinkle with shredded mozzarella and grated parmesan. Bake for 15 minutes at 350° F. Remove from the springform pan and garnish with salad and cherry tomatoes.