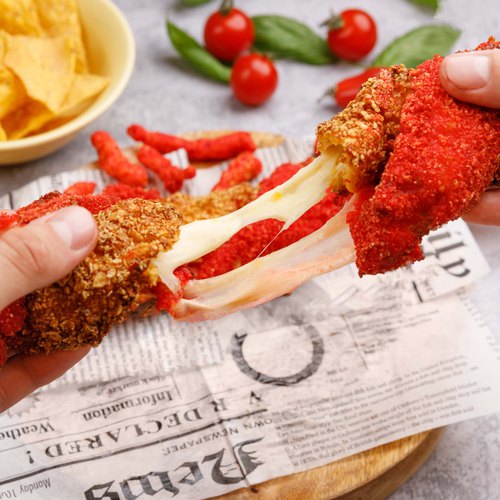 Twister Mozzarella Sticks
Twice the fun! 🌶🤩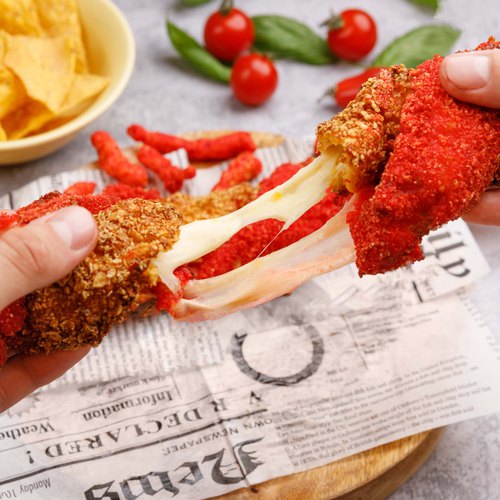 ---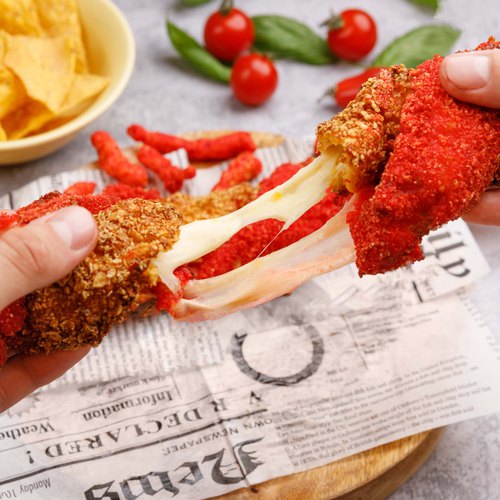 ---
Total time: 1 hour 30 minutes
Prep time: 20 minutes, Cook time: 10 minutes, Rest time: 1 hour
Ingredients for 4 people
2 large mozzarella blocks
1 cup of flour
3 eggs
2 bags of sour cream doritos
2 bags of flamin' hot cheetos
2 boxes of grape tomatoes
salt & pepper
1 tbsp of oregano
1 tbsp of olive oil
sunflower seed oil
1 tsp of granulated garlic
1 tsp of paprika
1 tbsp of cinnamon
1 fl oz of vodka
---
Tools
Blowtorch
Skewers
---
Step 1/4
Cut the two mozzarella blocks into large spirals as seen in the video. Cut both long mozzarella strips into 5 sections, then cut each section in half lengthwise so you have a total of 20 mozzarella sticks. Then dip each stick in flour and the egg wash, followed by crushed sour cream Doritos for half of the strips and crushed Flamin' Hot Cheetos for the other half. Then do a second coating of egg wash and crushed chips.
Step 2/4
Place a Dorito coated and a Hot Cheeto coated strip side by side and attach together by placing a skewer on both ends. Twist and place on a baking tray. Repeat with the rest of the mozzarella strips. Place in the freezer for 1 hour.
Step 3/4
Meanwhile, prepare the marinara sauce. Cut an 'X' in the top of the tomatoes and season with oregano, 1 tsp salt, and 1/2 tsp pepper. Place in a frying pan over medium heat with the olive oil and 1 cup water. Cover with a lid and cook 5 minutes. Next, turn off the heat and let rest for 5 minutes. Then pull the skin off of each one and mix the tomatoes using a spatula.
Step 4/4
Next fry the mozzarella sticks in sunflower seed oil at 350 °F for 1 minute on each side. In a small bowl mix the granulated garlic, 1/2 tsp pepper, paprika, and cinnamon. Carefully light a shot of vodka on fire and and add it to the marinara sauce. Add the spices, mix, and serve with the mozzarella sticks! Enjoy!