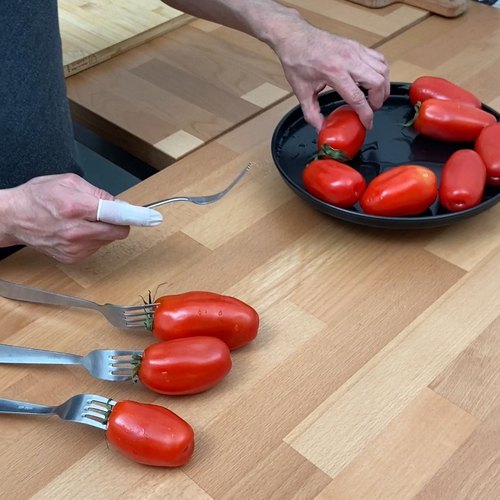 Mozzarella Surprise Marinara Cube
Stick with it! 🤩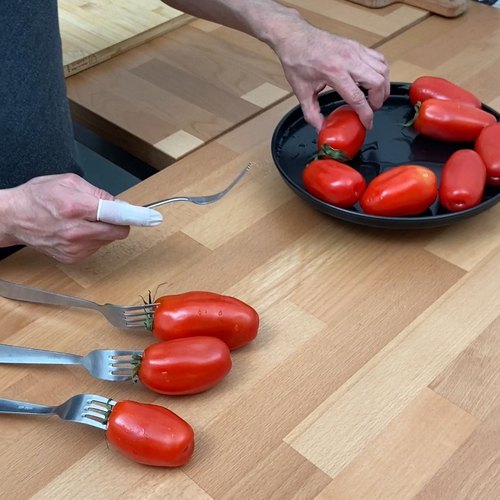 ---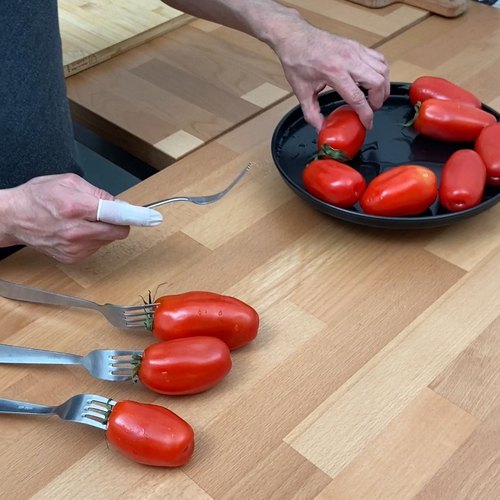 ---
Total time: 1 hour 30 minutes
Ingredients for 6 people
9 roma tomatoes
1/2 onion
3 cloves garlic
1 tbsp of olive oil
salt & pepper
2 tsp of thyme
1 tbsp of parsley
1 tbsp of grated parmesan
1 tsp of tabasco sauce
4 large mozzarella blocks
flour
eggs
panko
sunflower oil
salad
italian dressing
---
Step 1/4
Place 5 tomatoes onto forks and carefully roast over a flame. Then remove the skins and place the tomatoes into a saucepan. Add in the onion, garlic, olive oil, salt, and pepper. Cover and let simmer for 30 minutes. Next mix in the thyme, parsley, grated parmesan, and tabasco sauce. Be sure to crush the tomatoes and create a smooth mixture. Use a blender if necessary. Keep the marinara sauce warm over low heat.
Step 2/4
Take the 4 large mozzarella blocks and cut them into squares. Cut 4 tomatoes in half and remove the insides with a spoon and set aside for later. Then place each tomato half on top of a mozzarella square and cut out a circular piece of mozzarella the circumference of the tomato. Save the removed cheese for later. Then add the marinara sauce to the mozzarella squares and the tomato halves. Afterwards place a tomato half on top of each square and place in the freezer for 1 hour.
Step 3/4
Remove the mozzarella squares from the freezer and then coat each square in flour, whisked eggs, and panko. Return to the freezer for 10 minutes and then fry them in sunflower oil at 300 °F.
Step 4/4
Lastly prepare a salad with the leftover tomatoes and mozzarella and drizzle with Italian dressing. Serve with the mozzarella cubes and enjoy!