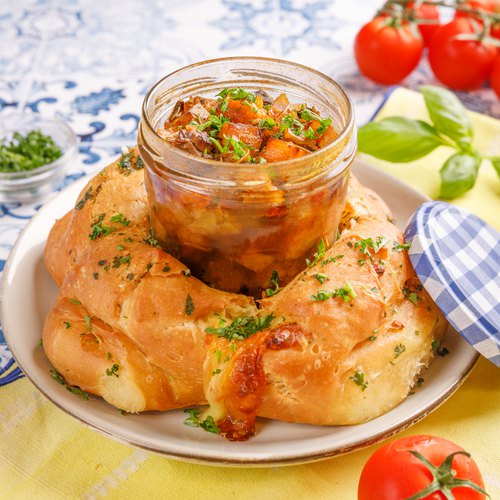 Beef Stew Bread Bowls
Garlic bread fans, this one's for you 🤤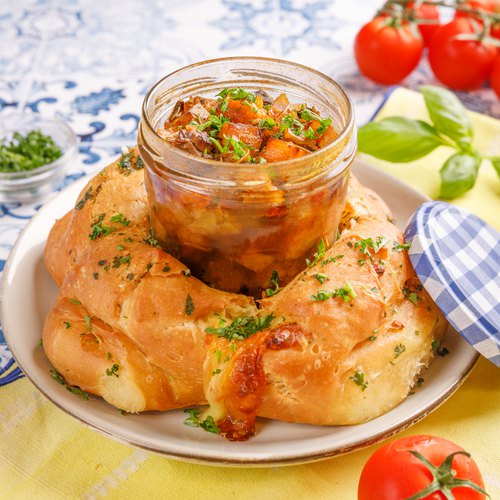 ---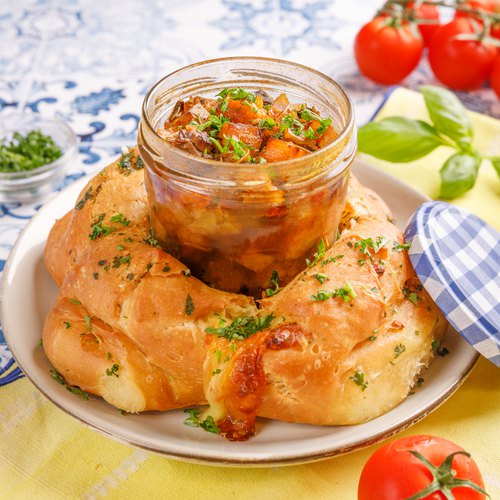 ---
Total time: 2 hours 15 minutes
Prep time: 40 minutes, Cook time: 35 minutes, Rest time: 1 hour
Ingredients for 3 people
2/3 cup of milk
1 1/2 tbsp of sugar
1 tsp of yeast
2 cups of flour
2 tbsp of olive oil
towel
2 tbsp of butter
2 tsp of parsley
2 tsp of minced garlic
4 potatoes
olive oil
1/2 flank steak
4 shallots
1 tsp of dried rosemary
1 pinch of chili powder
1/2 cup of tomato sauce
2 cups of beef stock
salt & pepper
4 slices of mozzarella
---
Tools
Stand mixer
Dough hook
Foil
Glass jars
Scissors
Pastry brush
---
Step 1/4
Combine the warm milk, sugar, and yeast in a stand mixer with a dough hook for 5 minutes, then add in the flour and olive oil. Mix until the dough is combined, then cover with a wet towel and let sit in a warm place for 45 minutes. Meanwhile, mix the melted butter, minced garlic, and parsley in a small bowl. Save for later.
Step 2/4
Brown the diced potatoes in a frying pan with olive oil for about 5 minutes, then set aside in a bowl. Slice the flank steak into thin strips and add it to the frying pan, searing on both sides. Afterwards, add to the bowl with the potatoes. Next, fry the shallots until browned, then add in the dried rosemary, chili powder, tomato sauce, and beef stock. Let simmer until reduced to about half. Season with salt & pepper to taste. Set aside.
Step 3/4
Divide the bread into 4 equal portions, roll them out slightly, and add the mozzarella cheese to the center. Then, form into a ball and let rest for 5 minutes. Press down after until almost flat and use your scissors to cut the sides like in the video. Place them on a baking sheet, brush with the butter & garlic mixture, and press the glass jars into the center of each one. Pour the beef stew into each jar, cover with aluminum foil, and bake for 35 minutes at 350 °F.
Step 4/4
Remove from the oven and carefully take off the aluminum foil. Then pour the stew into the center of each bread bowl using a hot pad. Dig in and enjoy!