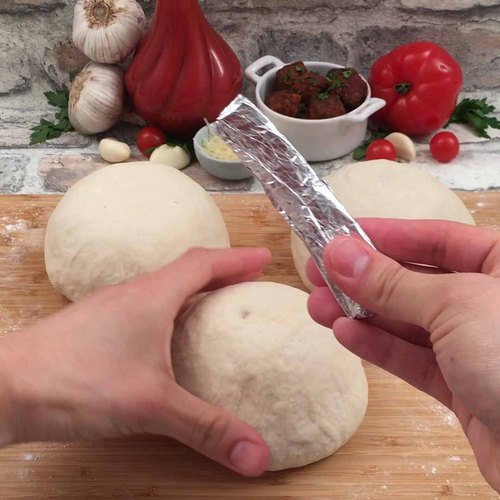 Meatball Sub Bowls
A sandwich you can hold in the palm of your hand! 😍🤪🥪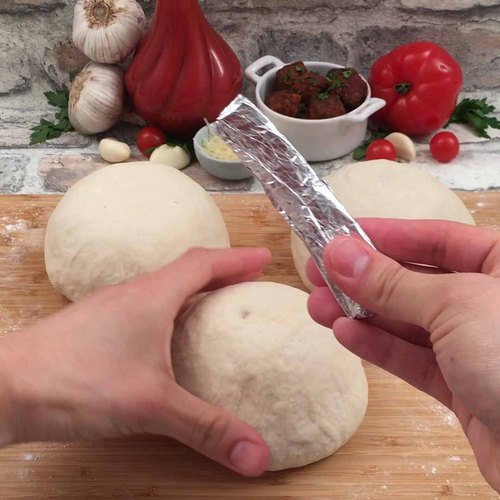 ---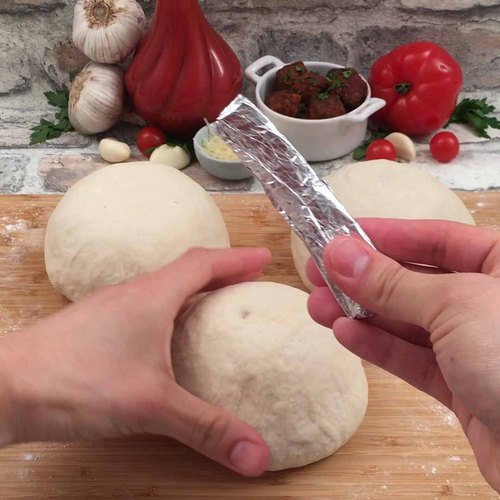 ---
Ingredients for 4 people
4 3/4 cups of flour
1 tsp of salt
2 tsp of yeast
1 3/4 cups of warm water
3 heads of garlic
1 lb of ground beef
2 tsp of italian seasoning
3/4 breadcrumbs
2 tbsp of parsley
2 tbsp of parmesan
1 egg
2 tsp of olive oil
salt, to taste
marinara sauce
mozzarella cheese
---
Tools
Colander
Foil
Slotted pasta spoon
---
Step 1/5
For bread: Mix the flour, salt, yeast, and water, then knead bread until it no longer sticks adding flour as needed. Cover with a damp towel and place in fridge for at least 3 hours. You can use pre-made bread dough or if you do not want to make your own.
Step 2/5
Divide into three equal parts and shape into balls. Place a whole garlic into the center of each ball and close with dough. Make a hole through one end of the ball and place a piece of foil to create a handle, let rest for 30 minutes in a warm area. Once ready, place in pre-heated oven at 375 °F for 25 minutes.
Step 3/5
Remove from oven, cut off tops and remove garlic cloves - if not fully roasted wrap in foil and bake for an additional 30-45 minutes. Using a wooden spoon, mash garlic through a colander. Rub some of this roasted garlic paste inside the bread and put the remaining past in a medium mixing bowl.
Step 4/5
Into the medium mixing bowl, add round beef, breadcrumbs, Italian seasoning, parsley, grated parmesan cheese, oil, salt to taste, and egg. Mix together. Using a slotted pasta spoon, make small meatballs using the hole in the center of the spoon by pressing down on the meat mix. Place these balls onto a parchment lined baking sheet for 15 minutes at 375 °F.
Step 5/5
Pour marinara sauce into the garlic-lined bread bowls, then top with meatballs and mozzarella cheese. Bake 5-10 minutes at 350 °F or until cheese is melted. Enjoy.
Similar recipes from Chefclub
-
Our other recipes