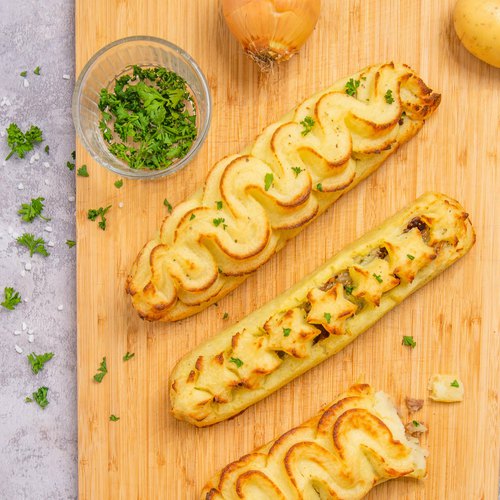 Mashed potato boats
Filled with delicious ground beef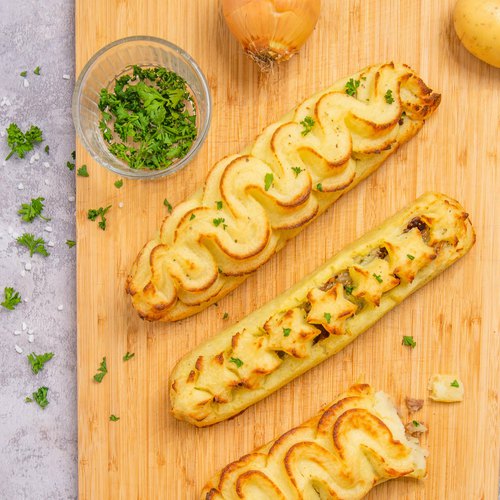 ---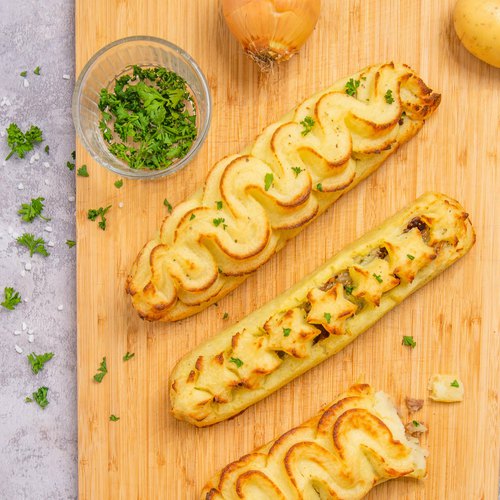 ---
Total time: 30 minutes
Prep time: 30 minutes
Ingredients for 3 people
4 lb of potatoes
1 1/2 tbsp of butter
4 2/3 tbsp of cornstarch
1/2 onion
1 clove garlic
2 3/5 oz of ground beef
2/3 cup of shredded mozzarella
olive oil
salt & pepper
parsley
---
Tools
Plastic bottle
Box cutter
Plastic bags
Potato masher
---
Step 1/4
Carefully cut out a star shape from the cap of the plastic bottle with a box cutter and then cut off the top of the bottle. Next, cut off the bottom corner of a freezer bag and place the top of the bottle inside to make a piping bag. Cook the peeled potatoes in boiling water.
Step 2/4
Pour a drizzle of olive oil into the pan, add the minced onion and garlic, and stir. Add the ground beef, salt, and pepper and let cook. Then add the chopped parsley.
Step 3/4
Mash the cooked potatoes with the butter and cornstarch, then fill the freezer bag with ⅔ of the mashed potatoes. Place remaining mashed potatoes in another freezer bag and cut off bottom corner to make a piping bag. Pipe 3 long mashed potato boats onto a parchment lined baking sheet, then scoop out the center with a spoon to make the boats. Garnish with the beef along the entire length of the boat and sprinkle with grated mozzarella.
Step 4/4
Use the piping bag with the star-shaped cap to decorate the tops of the potato boats as seen in the video. Place in the freezer for 30 minutes to let set, then bake for 20 minutes at 350 °F. Serve with a salad and enjoy!