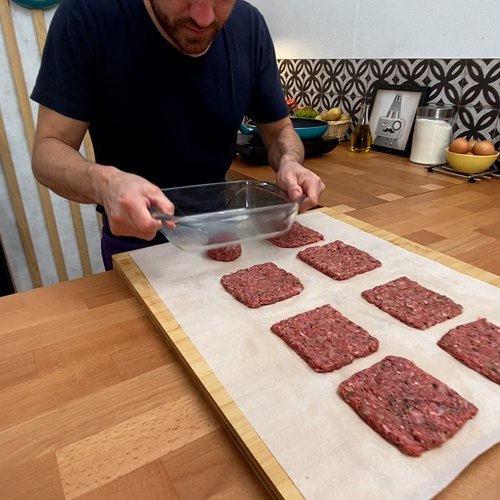 Giant Potato Ravioli
An XXL meal-sized ravioli 😍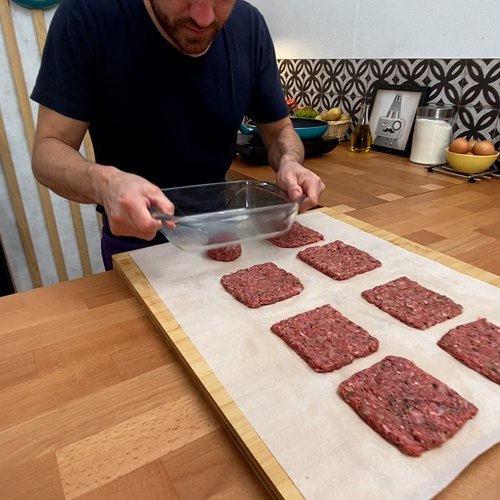 ---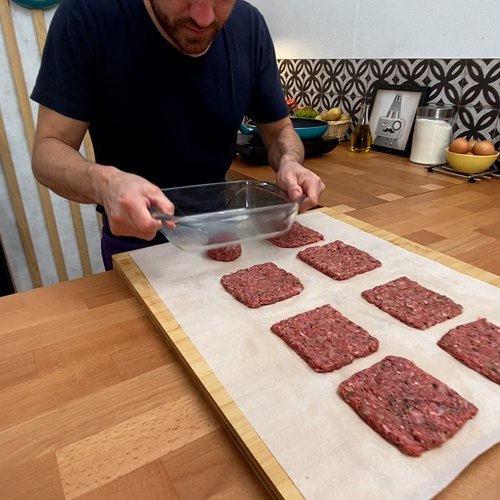 ---
Ingredients for 4 people
4 lb of potatoes
salt & pepper
2 eggs
1 tsp of vegetable oil
1 onion
1 clove garlic
1 lb of ground beef
1 1/2 tbsp of parsley
8 slices of gouda
vodka
1 tbsp of melted butter
1 cup of tomato sauce
---
Tools
Potato masher
Parchment paper
Rolling pin
---
Step 1/4
Boil the potatoes in salted water and then place in a large bowl. Mash with salt, pepper, and eggs. Next lay half of the mashed potato mixture between two pieces of parchment paper and roll flat with a rolling pin as seen in the video. Repeat a second time and set aside.
Step 2/4
In a frying pan heat the chopped onion and garlic with vegetable oil, salt, and pepper and cook until translucent. Next add the cooked onions and parsley to the ground beef and mix well. Place the meat onto a sheet of parchment paper, divide into 8 even balls, and flatten with a casserole dish as seen in the video. Shape into squares, add 2 slices of Gouda on top of 4 of the patties, and then cover with the remaining 4 patties.
Step 3/4
Brown each patty in the frying pan with a touch of Vodka. Then place the 4 patties in between the two potato layers. Press down, score the surface, brush with melted butter, and cut out 4 large ravioli pieces. Place on a baking sheet and bake for 20 minutes at 375 °F.
Step 4/4
Dress the serving plates with tomato sauce, place the giant ravioli on top, and sprinkle with parsley. Enjoy!