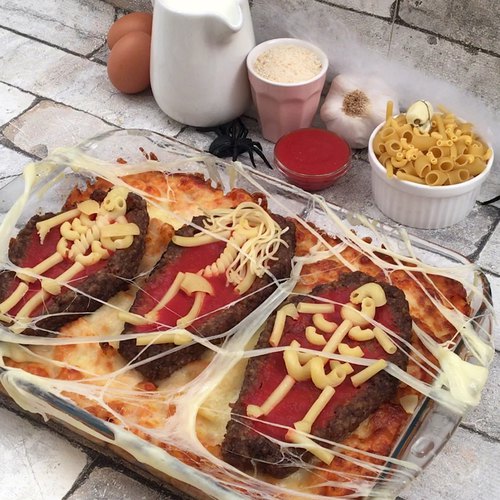 Halloween Pasta Bake
Dinner in a cemetery anyone?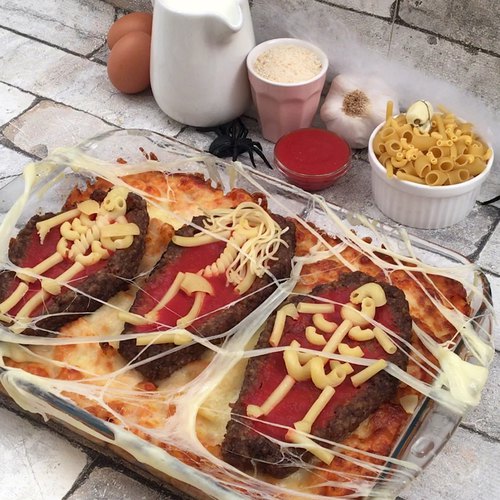 ---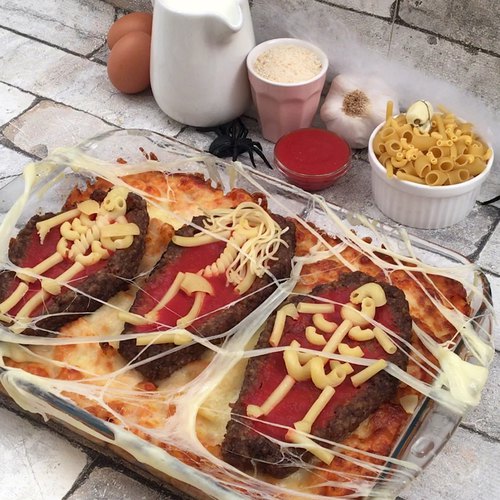 ---
Ingredients for 4 people
1 lb of ground beef
1 1/2 cups of tomato sauce
2 cups of shredded mozzarella cheese
1 1/4 cups of breadcrumbs
salt & pepper
2 eggs
---
Tools
Microwave-safe bowl
Tongs
---
Step 1/3
Cook the pasta in boiling salted water and drain. Fill a small bowl with pasta and set aside. Mix the rest of the pasta with 1/3 of the mozzarella, 1 cup of tomato sauce, salt, and pepper. Pour into the dish and cover with another 1/3 of the mozzarella. Bake for 15 minutes at 350 °F.
Step 2/3
Mix the ground beef, breadcrumbs, eggs, salt, and pepper. Divide the meat into 3 parts and shape each one into a coffin. Freeze for 30 minutes, then toast the sides of the coffins in a frying pan, holding them with tongs. Place the meat coffins on the pasta and cover with the remaining tomato sauce. Bake for 10 minutes at 350 °F.
Step 3/3
Use the leftover pasta to construct skeletons on the coffins. Fill the bowl with the remaining mozzarella and melt it in the microwave to create cheese cobwebs. Cover the pasta bake and enjoy.