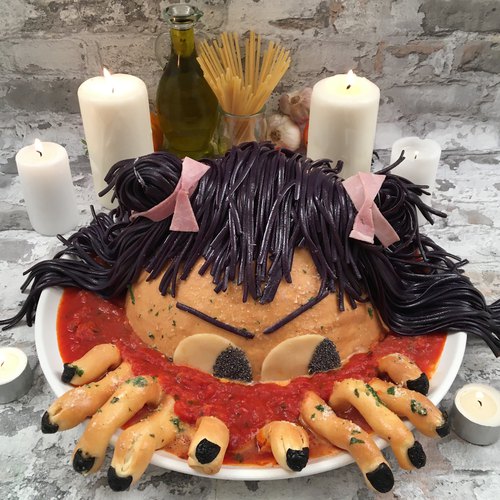 Horrifying Spaghetti Head
Michael Myers has some new competition.🔪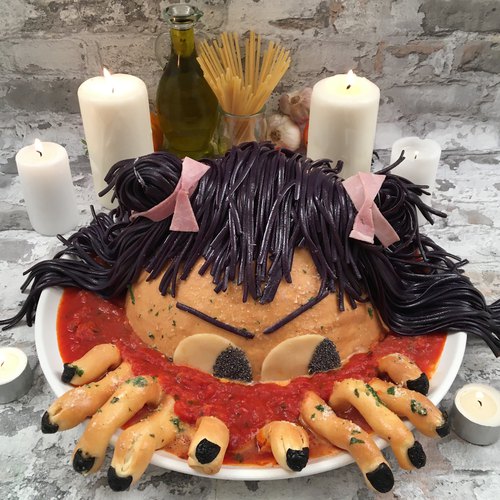 ---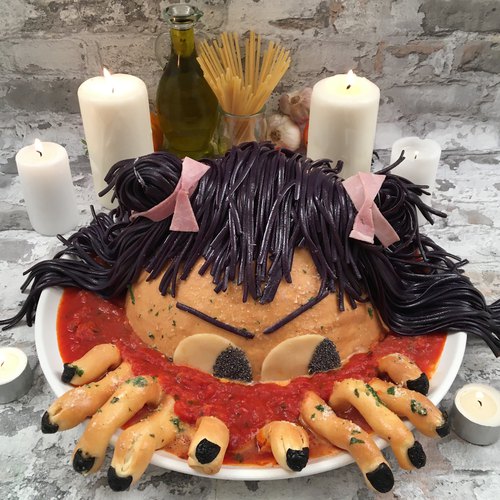 ---
Ingredients for 4 people
2 pizza doughs
black olives
garlic butter
spaghetti
black food coloring
3 eggs
2 cups of tomato sauce
1 cup of grated parmesan cheese
salt & pepper
1 small oven-safe bowl
marinara sauce
sliced ham
sliced cheese
olive tapenade
---
Tools
Oven-safe bowls
Aluminum foil
Parchment paper
Baking sheet
Toothpicks
---
Step 1/3
Roll out one pizza dough to create a thin crust. Turn an oven-safe bowl upside down and grease the bottom. Cover the upside-down bowl with the pizza dough and trim the edges so that the pizza dough forms a perfect dome. Place on a lined baking sheet. Cut the second pizza dough into ten strips. Fold each strip in half and seal the edges of the dough to create different sized finger shapes. Place slices of black olives on the ends of the fingers to create fingernails. Fold a strip of foil in half to create a long tent and place it on the lined baking sheet. Place the fingers on the tents so that the fingers bend. Bake for 12 minutes at 350 °F. When the doughs are finished baking, brush everything with melted garlic butter.
Step 2/3
Bring a pot of water to boil, add half the spaghetti along with black food coloring. Drain the spaghetti when cooked and set aside. Cook the second half of the spaghetti. Mix the plain spaghetti with the eggs, tomato sauce, parmesan cheese, salt, and pepper. Line an oven-safe bowl with foil. Fold a piece of foil to create a thick strip, and place it along the center of the boil. Fill the bowl with the spaghetti. Place a small oven-safe bowl in the center of the spaghetti. Bake for 20 minutes at 350 °F.
Step 3/3
When cooked, remove the bowl and fill the crater with marinara sauce. Use a plate to flip the spaghetti brain upside down. Remove the foil, and cover the spaghetti brain and the plate with marinara sauce. Place the pizza dome on top of the brain. Place the fingers around the plate to create two hands. Cover the top of the head with the black spaghetti to create hair. Cut pieces of ham and wrap around the hair to create hair ties. Use toothpicks to secure them in place. Cut semi-circles out of the cheese slices and use olive tapenade to create eyes. Place on the pizza head. Use extra black spaghetti to create eyebrows.