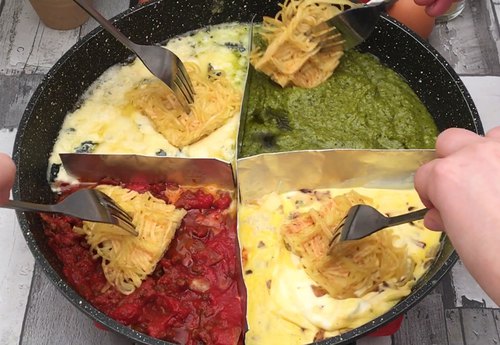 Spaghetti Waffles
Choose your favorite dipping sauce!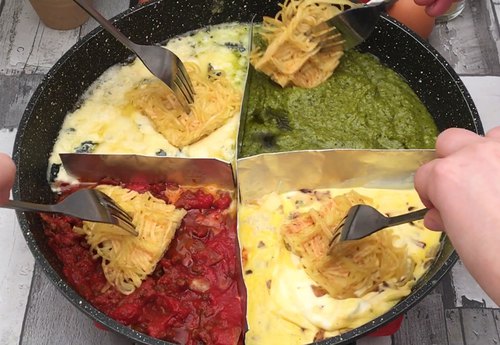 ---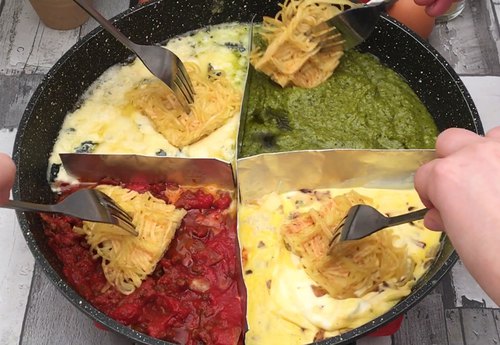 ---
Ingredients for 4 people
1 lb of spaghetti
3 egg yokes
1/2 onion, sliced
1/4 lb of ground beef
2 tbsp of sour cream
1 cup of tomato sauce
1 1/2 cups of grated parmesan cheese
1/4 cup of grated swiss cheese
1/4 cup of bleu cheese
1/4 cup of pesto
oregano
---
Tools
Waffle maker
Aluminum foil
---
Step 1/4
Cook the spaghetti until it's slightly undercooked. Drain, then mix in 2 egg yolks. Cook the mixture for 5 minutes in a waffle iron.
Step 2/4
In a frying pan, place aluminum foil dividers to form 4 compartments. Fry the sliced onion in 2 of the compartments. Add the ground beef in one and the bacon in the other.
Step 3/4
Once the bacon is golden brown, add sour cream and the remaining egg yolk and mix. In the ground beef compartment, add the tomato sauce and oregano.
Step 4/4
Add all the cheeses in one of the remaining compartments and the pesto in the other. Cook for 5 minutes over low heat. Enjoy by dipping the waffles in the different compartments.