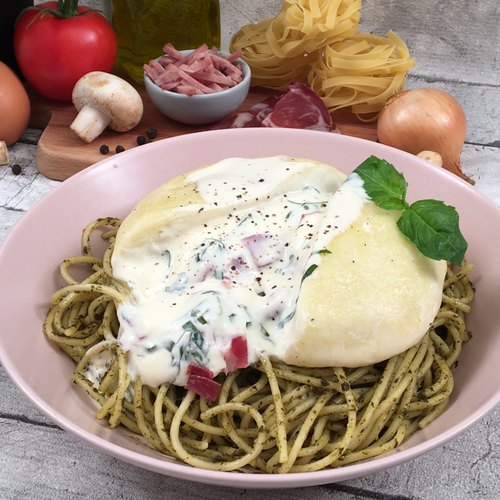 Mozzarella Magic
Make your life cheesier. 🍝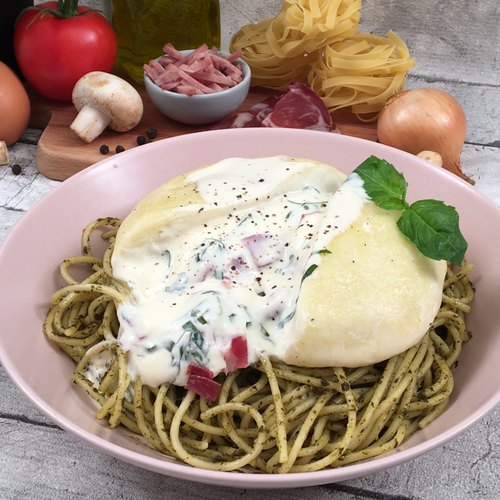 ---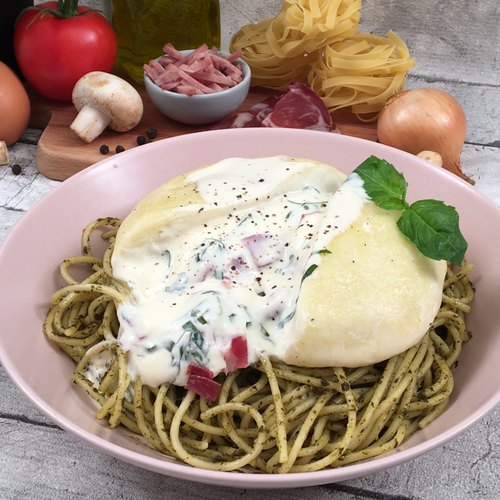 ---
Ingredients for 3 people
6 balls fresh mozzarella
3/4 cup of plus 2 tbsp heavy cream
2 slices of coppa (italian ham)
5 mushrooms
1/2 cup of ham, diced
10 mini bocconcini
cooked spaghetti, plain, tomato sauce, & pesto
olive oil
basil
salt & pepper
---
Tools
Ramequins
Bowls
---
Step 1/4
Place a ball of mozzarella in each ramekin, cover with water and microwave for 2 minutes. When they come out of the microwave, squeeze the mozzarella balls to drain them completely and flatten them into discs Place each disc in a bowl.
Step 2/4
Dice the remaining mozzarella balls and melt them in a pan with a little heavy cream. Stir over the heat until a creamy paste is formed. Divide this paste among the mozzarella bowls.
Step 3/4
Finely chop the mushrooms and fry them. In one of the bowls add the coppa cut into small pieces and the chopped basil, in another bowl add the mushrooms and the diced ham, and in the last bowl add the mini bocconcini. Pinch closed the mozzarella discs to form balls.
Step 4/4
Place the coppa ball on pesto spaghetti, the mushroom ball on plain spaghetti, and the last ball on tomato spaghetti. Drizzle with olive oil, season with salt and pepper, and enjoy!