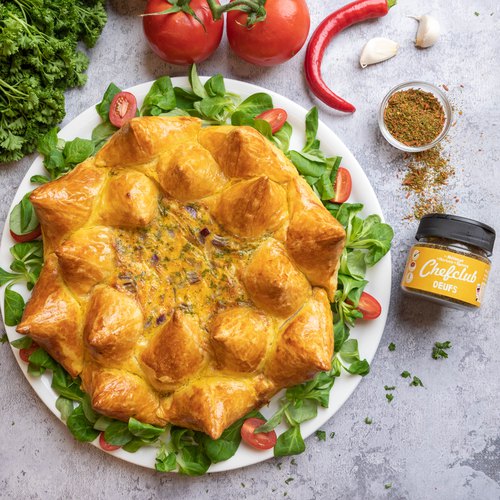 Royal Appetizer Pastry
Royal Appetizer Pastry! Loaded with ham & cheese- for royalty only! 👑🤩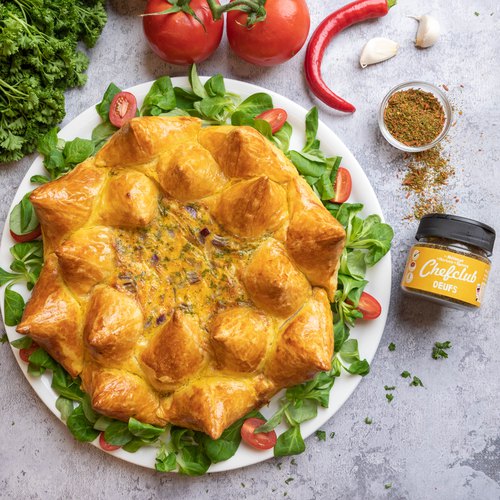 ---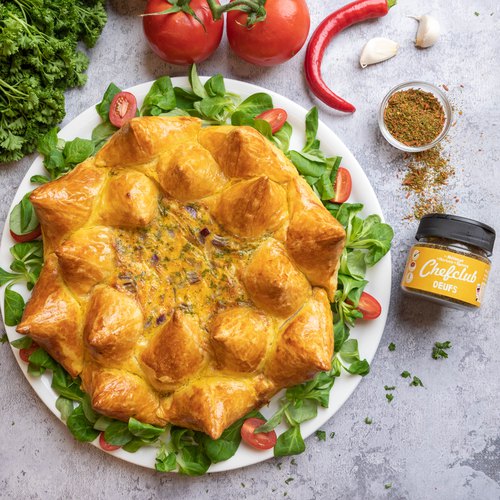 ---
Total time: 55 minutes
Prep time: 25 minutes, Cook time: 30 minutes
Ingredients for 4 people
3 egg
0.4 cup of heavy cream
3 1/2 oz of ham
0.4 cup of milk
1/2 onion
2 tbsp of parsley
2 tsp of chefclub egg spice mix
3 1/2 oz of bacon bits
7 oz of comté cheese
1/2 cup of red onion
1 egg yolk
Salt & pepper
Olive oil
---
Tools
parchment paper
---
Step 1/4
Brown the bacon nits in the pan then line the inside of the dish with a sheet of parchment paper. Pour in the eggs, the heavy cream and add the bacon bits. Pour in the milk and the diced red onion, add the chopped parsley, then season with salt and pepper. Sprinkle with the Chefclub egg spices and mix the preparation with a whisk then place in the fridge.
Step 2/4
Brown the ½ white onion in the pan with a drizzle of olive oil and a little salt. Cook slowly over medium heat to brown well.
Step 3/4
Make 4 circles from each puff pastry. Fold the circles in half, then use a chopstick to hollow out the center and be able to cut them in half by pulling lightly to obtain 2 triangles of dough. Slightly fold the sides of the triangles to seal the dough then form cones. Fill the cones with diced ham, sprinkle with grated comte cheese and onion pieces, cover with cheese and close the cones to obtain filled puff pastries.
Step 4/4
Place the puff pastry triangles in a circle, upright on the edges of the preparation in the baking dish. Brush the triangles with egg yolk and bake for 30 minutes at 350°F. Serve with a salad and enjoy!