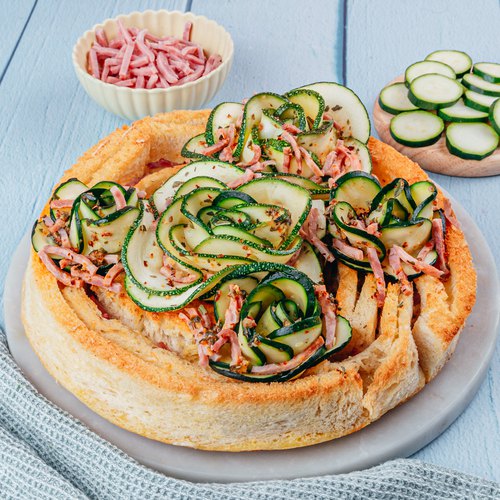 The Spiral Quiche
The Spiral Quiche! With cheese, zucchini and ham 😊🧀🥒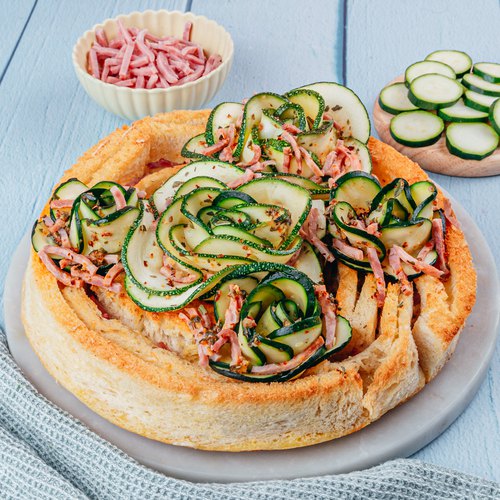 ---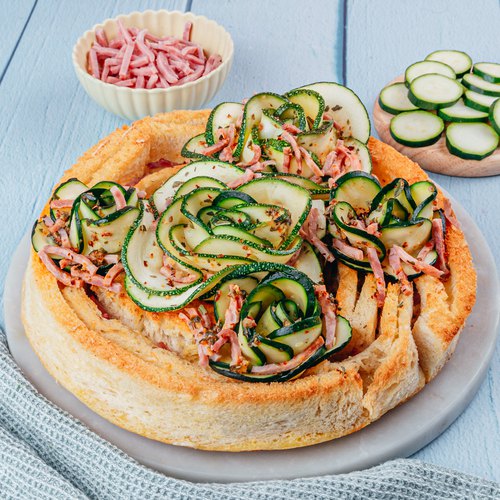 ---
Total time: 1 hour 10 minutes
Prep time: 35 minutes, Cook time: 35 minutes
Ingredients for 5 people
4/5 cup of heavy cream
4 egg
Salt & pepper
3 slices of sandwich bread
3 1/2 oz of emmental cheese
5.3 oz of ham
0.3 cup of butter
1 zucchini
2 round zucchinis
2 tbsp of chefclub vegetable seasoning
---
Tools
Cling wrap
Shot glass
---
Step 1/3
Mix the heavy cream, the eggs, the salt and pepper, the nutmeg until you obtain a smooth mixture. Cut the slices of sandwich bread in 2 lengthwise, incise the center of each slice without going all the way, garnish the slices of bread with grated emmental cheese. Roll up the slices of bread on themselves, place them in the mold and add half of the diced ham. Brush the sandwich bread with ⅓ cup of melted butter. Add the mixture to the diced ham and bake for 20 minutes at 350°F.
Step 2/3
Cut the zucchini and round zucchinis into slices, place in a dish, cover with cling wrap and cook for 1 minute in the microwave to blanch them. Let them cool, cut the rest of the butter into pieces and sprinkle with Chefclub vegetable spices. Place the spiced butter in 5 glasses, add the remaining diced ham and arrange the zucchini strips on the edge of each glass to form zucchini flowers. Place them on a baking tray and bake for 10 to 15 minutes at 350°F.
Step 3/3
Unmold the quiche on a plate, place the zucchini flowers on the quiche and sprinkle with Chefclub vegetable spices. Serve and enjoy!