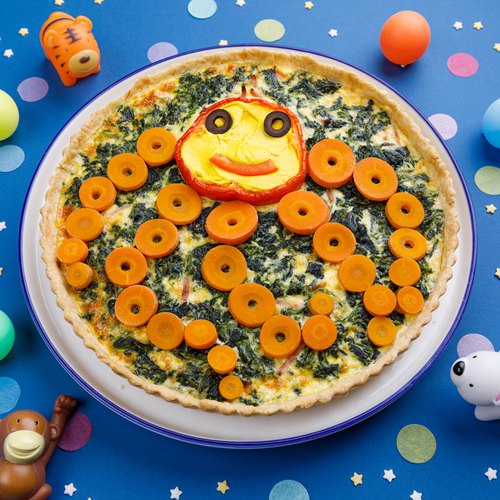 Inkredible Octopus Quiche
Inkredible Octopus Quiche! A recipe to octopie your hands 😂 🐙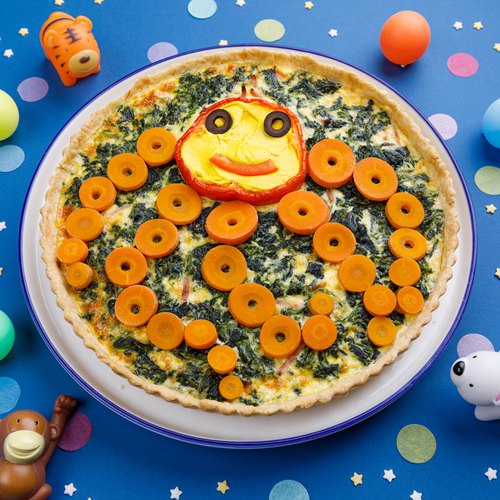 ---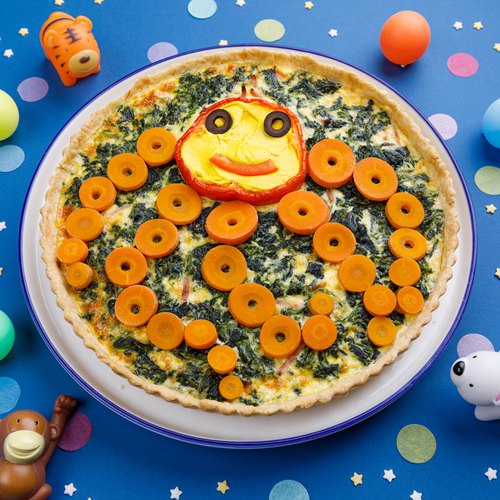 ---
Total time: 1 hour 50 minutes
Prep time: 30 minutes, Cook time: 20 minutes, Rest time: 1 hour
Ingredients for 5 people
1 3/4 cups of flour
1/2 cup of butter
5 egg
3 1/2 oz of shredded mozzarella
1 cup of spinach
1 red bell pepper
1 cup of heavy cream
2 tbsp of cream cheese
1 tsp of turmeric
Salt & pepper
Ham
Black olives
---
Tools
Straw
Cling wrap
---
Step 1/4
Mix 1 chef and 1 pig of flour, 1 pig of butter, 1 pinch of salt with your hands. Make a space in the center, place 1 egg and 1 hen of water then mix until smooth. Cover the dough with cling wrap and refrigerate.
Step 2/4
Roll out the dough, place it in a pie pan and prick the dough with a fork. Add 1 chef of grated cheese and 1 pig of diced ham. Cook 1 chef of spinach, drain and garnish in the quiche. Cut the red pepper into 3 parts, scoop out the seeds, cut half of one part into pieces.
Step 3/4
Mix 4 eggs, 1 chef of heavy cream, 1 pinch of salt, pepper using a whisk. Place a bell pepper ring with the bell pepper pieces inside on top of the quiche. Pour the quiche mixture all over. Bake for 20 minutes at 350°F.
Step 4/4
Cut the carrots into slices, fill 1 chef with carrots then cook them in the microwave twice for 30 seconds. Mix 1 mouse of cream cheese mouse with 1 chick of turmeric. Make a hole in half of the carrot slices then arrange them on the quiche in several rows to form the tentacles. Add the cream cheese to the turmeric in the bell pepper ring, cut 2 slices of olive to form the eyes. Use the rest of the pepper to form a mouth. Serve and enjoy!