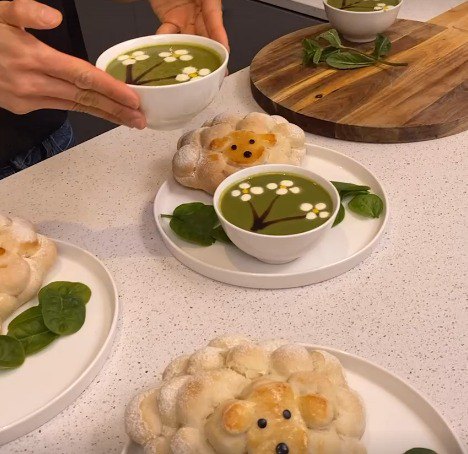 Spring Veggie Soup & Sheep Bread
Spring Veggie Soup & Sheep Bread! Don't be sheepish and try this new recipe 🥣🐑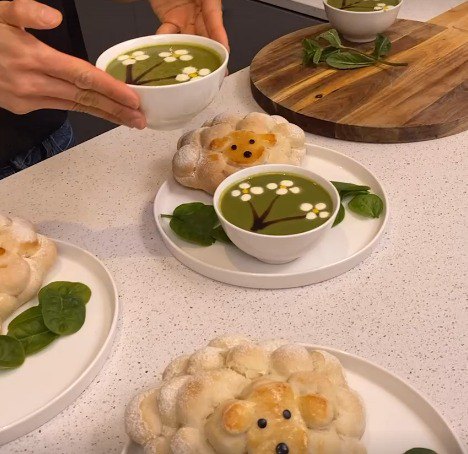 ---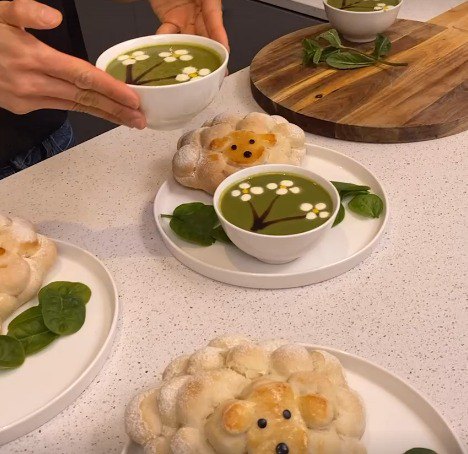 ---
Total time: 2 hours 15 minutes
Prep time: 10 minutes, Cook time: 35 minutes, Rest time: 1 hour 30 minutes
Ingredients for 3 people
1 onion
1 potato
1 3/4 cups of peas
0.4 cup of spinach
1 vegetable bouillon cubes
5 cups of water
1 3/4 cups of flour
1 tbsp of sugar
1 tsp of yeast
1 tsp of salt
2 tsp of melted butter
2 tsp of sour cream
2 tbsp of heavy cream
Balsamic vinegar
Basil leaves
Turmeric
1 egg yolk
---
Tools
Blender
Pastry brush
Skewers
---
Step 1/4
In a pot add the vegetables, 1 litre of water, turmeric and bouillon cube. Boil on low for 20 minutes. Place in a blender until smooth.
Step 2/4
In a bowl add 3/4 cup of lukewarm, the yeast, sugar, salt and butter. Add the flour and knead the dough until smooth. Allow to rest 50 minutes.
Step 3/4
Degas and divide the dough into 3. Make small balls and create 3 sheep. Place on a baking sheet and allow to rest 40 minutes. Brush the sheep with egg yolk and bake at 375°F for 15 minutes.
Step 4/4
Serve the soup in a small bowl. Make flowers with the creams and the branches with the balsamic vinegar. Add the basil leaves as decoration and serve with the sheep bread. Enjoy!