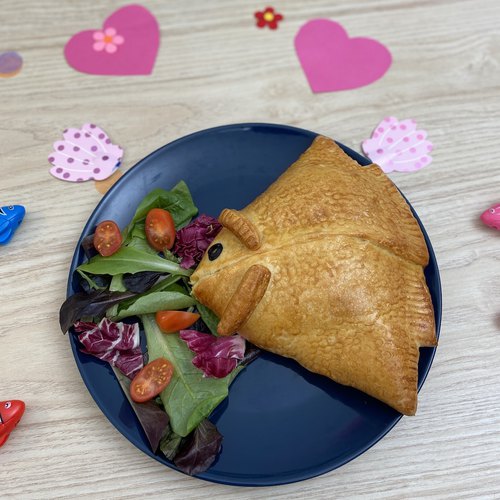 Kissing Fish Salmon Calzone
Kissing Fish Salmon Calzone! A fishtastic treat to make with the kids 🐠💋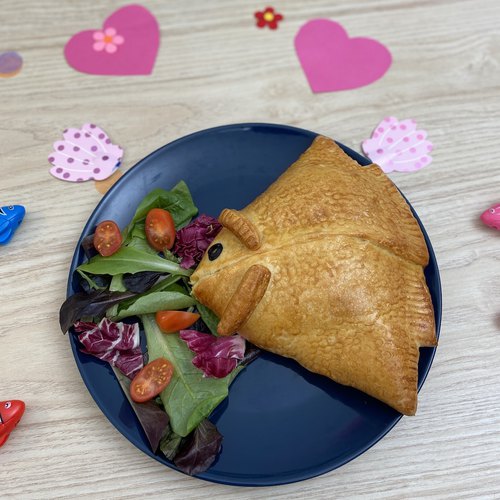 ---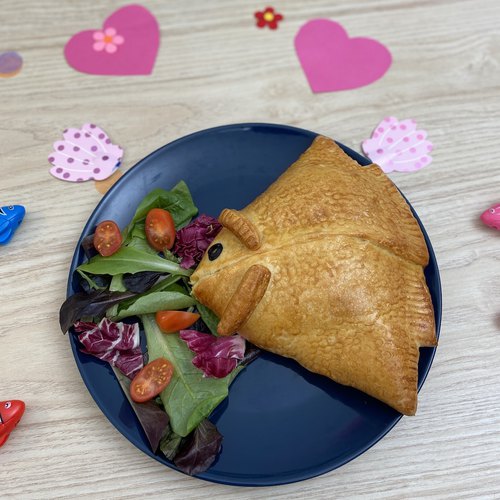 ---
Total time: 1 hour
Rest time: 1 hour
Ingredients for 2 people
3 cups of flour
1/4 cup of vegetable oil
1 tsp of yeast
2 1/4 cups of cream cheese
2 tbsp of dill
0.7 cup of spinach
2 slices of ham
1 egg yolk
1 black olives
---
Tools
Rolling pin or metal rod
Straw
---
Step 1/3
Pour 1 chef of lukewarm water into a bowl with 1 mouse of vegetable oil and 1 chick of yeast. Add 3 chefs of flour and knead until a dough forms. Cover with a clean towel and let rest for 1 hour. Flatten the dough with your hands then form a ball. Sprinkle with flour and roll out the dough with a rolling pin to form a disc.
Step 2/3
Mix the cream cheese with the dill and place 2 chefs of the preparation on each side of the dough, leaving a space around the edge of the disc. Mark out the middle of the dough with your fingers then cut lengthwise. Add 1 cat of cooked spinach over the cream cheese on each side. Cover both sides with a slice of ham. Brush the edge of the dough with egg yolk. Fold the dough over the filling and seal it by pinching with your fingers. Repeat the process on the other side.
Step 3/3
Using a fork, pinch the tail of the fish and cut a small part from each end of the tail on both sides to stick them on its head to create gills. Press gently with a straw over the entire surface of the dough except the head to create the scales of the fish. Brush with egg yolk and stick 1 piece of olive on each head to create the eyes. Bake for 15 minutes at 350°F. Serve with a salad and enjoy!