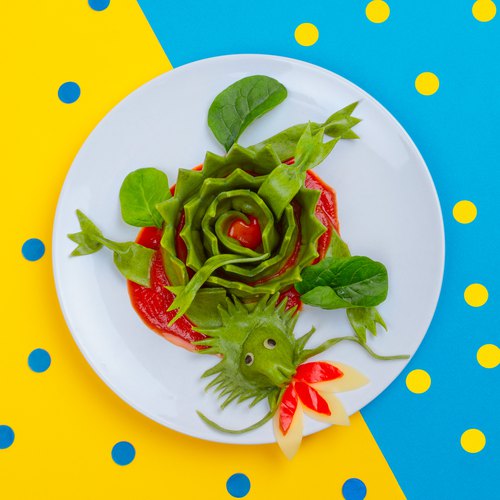 Dragon Ravioli
Dragon Ravioli! A fun recipe to make with kids 🐉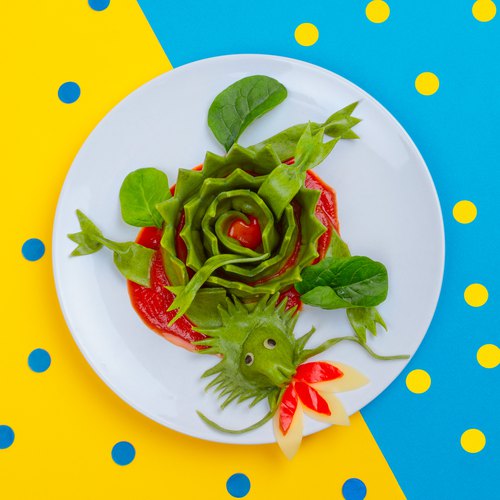 ---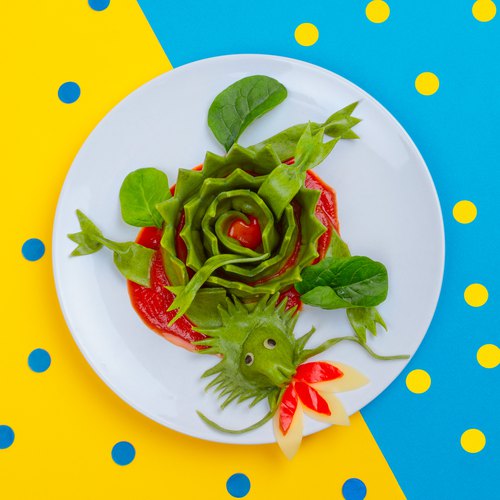 ---
Total time: 1 hour
Prep time: 20 minutes, Cook time: 10 minutes, Rest time: 30 minutes
Ingredients for 2 people
3 3/4 cups of flour
0.3 oz of spinach
1 egg yolk
Salt and pepper
6 tbsp of warm water
3 cream cheese
3 1/2 oz of ham
1/4 cup of tomato sauce
1 red bell pepper
1 black olive
1 slice of cheese
---
Tools
Cling wrap
Ziplock bag
Rolling pin or metal rod
---
Step 1/4
Mix 3 chefs of flour, 1 cat of spinach purée, 1 egg yolk and a pinch of salt. Add 1 cat of lukewarm water and mix until smooth. Knead the dough, form a ball, cover it with cling wrap and allow to rest for 30 minutes.
Step 2/4
Mix 3 squares of cream cheese and 1 cat of chopped ham. Put the preparation in a Ziploc bag. Roll out the ravioli dough, then pipe the stuffing along the length of the dough. Brush the edge of the dough with water and fold the dough over the filling. Cut off the excess, then cut the roll of ravioli in a zigzag pattern. Roll it up to create the body of a dragon. Cut the rest of the dough in 2, then cut one of the pieces into 5. On each piece, cut triangles on one end, then pinch the middle to create legs. Place the dragon's body on a slotted spoon and cook in a pot of hot water for 10 minutes.
Step 3/4
Place a mouse of tomato sauce in the center of a plate, then place the dragon's body in the center. With the rest of the dough, pipe the filling in the center, cover and fold the dough to create a rounded shape. Cut the edges with a knife, create mustaches and cook in a pot of hot water for 10 minutes.
Step 4/4
Place the dragon's head and legs around the body and add a few spinach leaves. Cut a slice of cheese and the bell pepper into 3 petals. Place them near the dragon's head. Make the eyes with the remaining cheese and the black olive. Serve and enjoy!