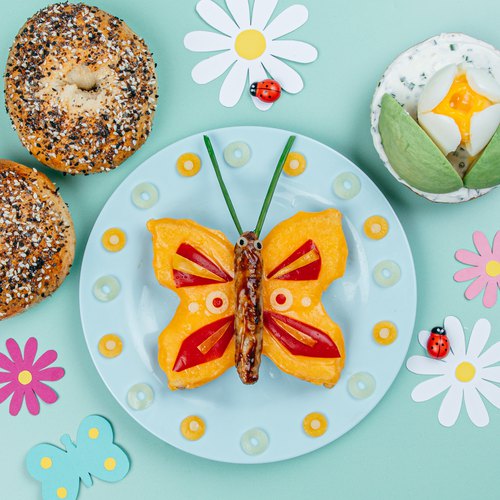 Tulip & Butterfly Bagel
Tulip & Butterfly Bagel! A cute recipe to do with the kids 🦋🥯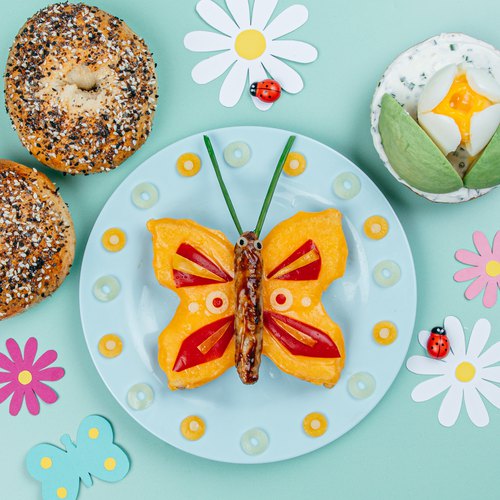 ---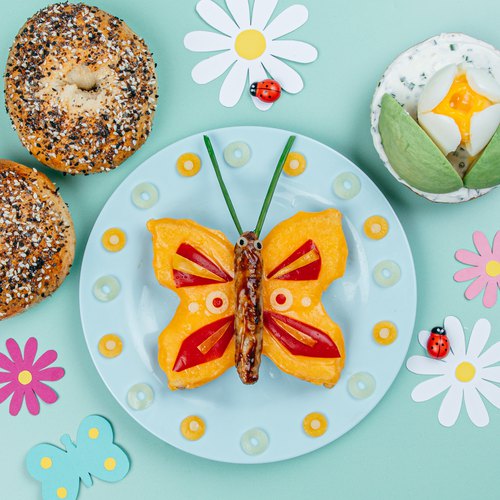 ---
Total time: 2 hours
Prep time: 5 minutes, Cook time: 25 minutes, Rest time: 1 hour 30 minutes
Ingredients for 1 person
1 cup of flour
Sugar
2 tsp of yeast
Water
1 avocado
2 egg
Cheddar
2 sausages
1 red bell pepper
Brown sugar
Sesame seeds
Cream cheese
Chives
---
Step 1/3
Mix yeast and water. Set aside. Mix with flour and sugar. Allow it proof. Shape into a bagel shape and boil in hot water for a few minutes. Place on a baking sheet and sprinkle with sesame seeds. Bake until done.
Step 2/3
Hard-boil the eggs in hot water. Cut the egg so that it ressembles a flower. Mix the cream cheese and chives. Slice the bagel in half lengthwise and spread the bottom half with the cream cheese. Add the egg on top and thin slices of avocado to create a tulip.
Step 3/3
Cut the other half of the bagel in 2. In a hot pan melt the cheddar cheese and add the bell pepper pieces. Add the bagel pieces on top to create the butterfly wings. Remove from heat and add chive antennae. Serve and enjoy!