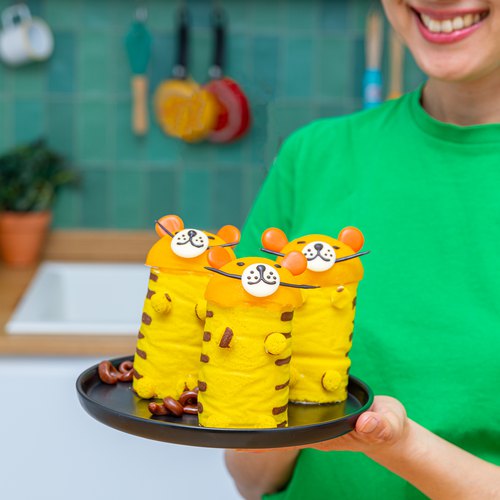 Peachy Tiger Sponge Cake
Peachy Tiger Sponge Cake! Roar into flavor town with this treat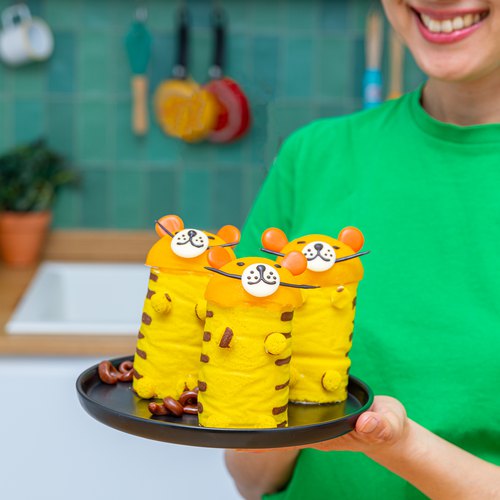 ---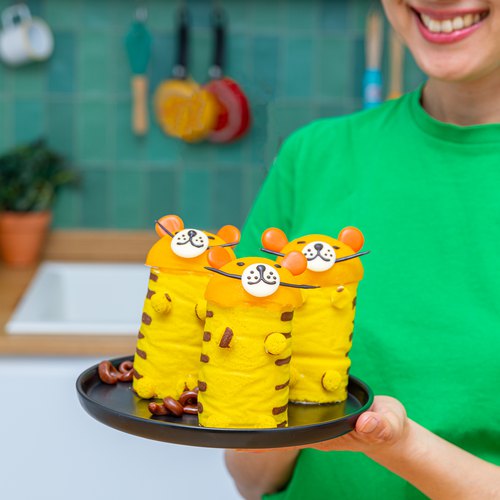 ---
Total time: 37 minutes
Prep time: 25 minutes, Cook time: 12 minutes
Ingredients for 3 people
5 egg
Food coloring
1 cup of heavy cream
3 caramel candies
1 pinch of salt
1 peach
2 oz of white chocolate
1/2 cup of sugar
2 peaches
1 cup of flour
Orange food coloring
2 tsp of cacao powder
Black food coloring
---
Tools
Piping bag
Electric hand mixer
Plastic sheet protector
parchment paper
---
Step 1/4
5 egg - 1 pinch of salt - 1/2 cup of sugar - 1 cup of flour - 2 tsp of cacao powder
Begin by separating the egg whites from the yolks. Whisk the egg whites with a pinch of salt until they become stiff. Next, mix the egg yolks with powdered sugar and slowly add flour, stirring continuously. Once the mixture is well combined, gently fold in the beaten egg whites until the mixture becomes smooth and even. To create a variation, add cacao powder to a quarter of the batter and mix it thoroughly. Place this mixture in a pastry bag and pipe it onto a sheet of parchment paper, forming lines of various lengths while leaving space in the middle. Bake at 390°F for two minutes.
Step 2/4
Food coloring
Add a few drops of orange food coloring to the plain batter and pour it over the stripes of cacao batter, spreading it over the entire surface. Bake for 8-10 minutes at 390°F.
Step 3/4
1 cup of heavy cream - 1 peach
Whisk the heavy cream into whipped cream using an electric mixer, then spread it over the sponge cake. Cut a peach into slices and place them in the center of the sponge cake. Roll up the sponge cake tightly, then cut it into 3 equal parts.
Step 4/4
3 caramel candies - 2 oz of white chocolate - 2 peaches - Orange food coloring - Black food coloring
Stretch the caramel candies with the palm of your hands, and wrap them around a wooden spoon. Melt the white chocolate, divide it into 3 parts, then color one part orange and another part black. Draw the ears, whiskers, and snout on a Ziplock bag, repeat the process to form 3 faces, then let them set. Cut the remaining 2 peaches in half to form the tiger heads, then assemble the facial features on the peach. Stand the sponge cake rolls upright, place the peach tiger head on top, and attach the caramel tail. Serve and enjoy!