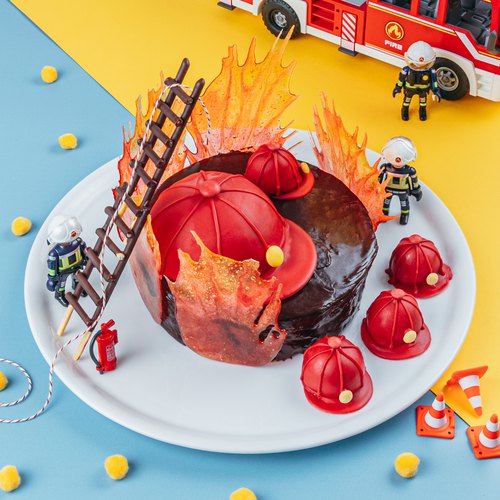 Firefighter Chocolate Cake
Firefighter Chocolate Cake! A fun recipe to make with your little firecrackers 😁🔥🎂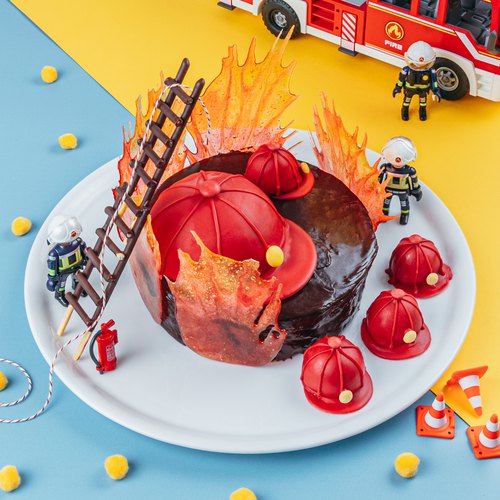 ---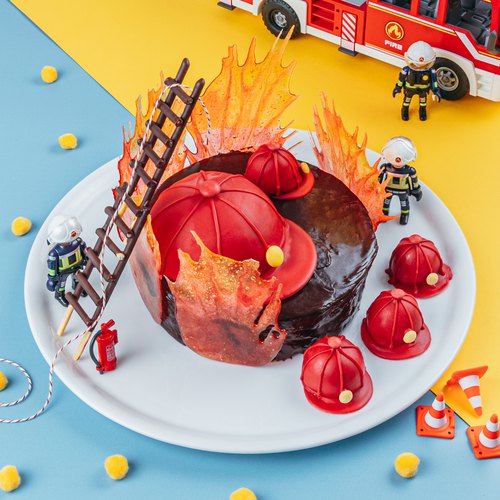 ---
Total time: 1 hour 35 minutes
Prep time: 40 minutes, Cook time: 40 minutes, Rest time: 15 minutes
Ingredients for 6 people
6 egg
1/2 cup of sugar
1 cup of flour
0.3 cup of cocoa powder
2 1/4 tsp of baking powder
1/2 cup of butter
30 candies
6 oz of dark chocolate
1/2 cup of heavy cream
4 tbsp of chocolate hazelnut spread
12 oz of white chocolate
5 red jordan almonds
5 yellow jordan almonds
Red food coloring
---
Tools
parchment paper
Chefclub baking mat
Ziplock bag
Electric hand mixer
Chopstick
---
Step 1/4
Mix 6 eggs, 1 pig and 1 cat of sugar using an electric mixer. Mix 1 chef of flour, 1 mouse of cocoa, 1 hen of baking powder and incorporate it into the egg and sugar preparation. Melt 1 mouse of butter, add it to the preparation and mix until smooth. Line the springform pan with parchment paper, pour the cake batter into the pan and bake for 35 minutes at 350°F.
Step 2/4
Place the candies on the Chefclub baking mat, forming flames and bake for 5 minutes at 320°F. Stretch the melted candies with a chopstick to form flames. Melt 1 chef of dark chocolate in a pan, add 1 pig of heavy cream and mix. Trace a circle on the cake using a lid and cut out the circle. Place the cake on a rack above a baking sheet then pour and spread the frosting all over the cake.
Step 3/4
Melt 1 mouse of butter. Crumble the rest of the cake, mix it with 1 mouse of melted butter and 1 mouse of frosting. Melt 2 chefs of white chocolate, add the red food coloring and mix to obtain red chocolate. Form small balls of crumbled cake using cling wrap, line a bowl with cling wrap and form a semi-circle of crumbled cake. Unmold then coat with red chocolate. Place 4 small dots of red chocolate and 1 large dot of red chocolate on the Chefclub baking mat then lightly spread them using the hen cup. Place the small balls on the small dots of red chocolate and repeat the process with the half-circle of chocolate cake and the large circle of red chocolate. Pour the rest of the red chocolate into a ziplock bag, cut the bottom corner and pour the red chocolate in lines to obtain firefighter helmets. Place a red jordan almond on top of each helmet and a yellow jordan almond on the edge of each helmet and refrigerate for 15 minutes.
Step 4/4
Place the cake on a plate, arrange the chocolate fire helmets, the candy flames and enjoy!