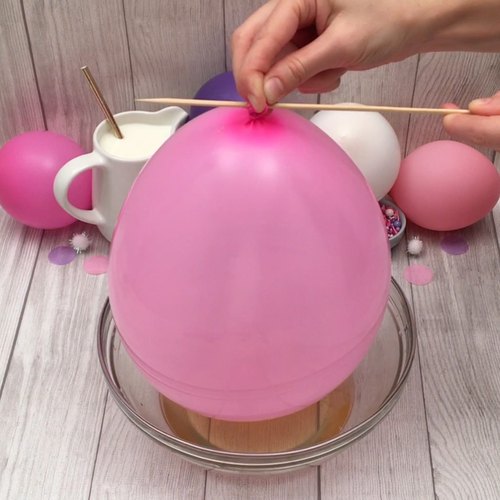 Frozen Snow Globe Cake
Let it SNOW!!! ❄️👸🏼❄️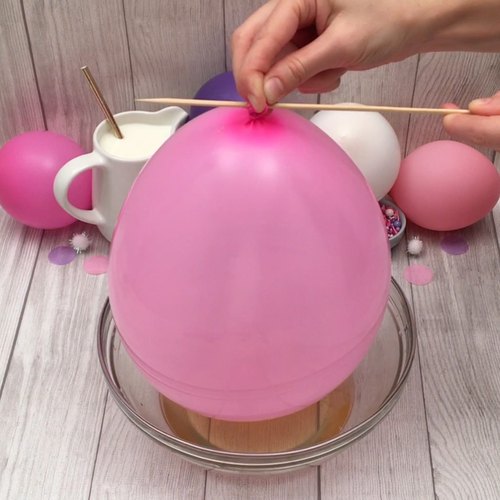 ---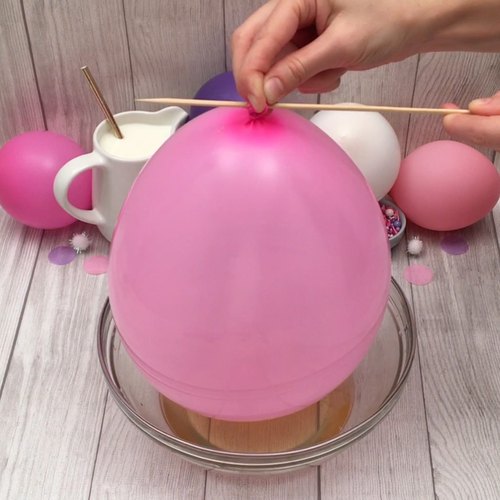 ---
Ingredients for 10 people
15 gelatin sheets
2 cups of butter
2 cups of sugar
6 eggs
4 cups of flour
1/2 cup of almond powder
2 teaspoons salt
4 teaspoons baking powder
1 teaspoon vanilla extract
1 cup of milk
1/2 cup of vegetable oil
1 cup of sprinkles
4 cups of heavy cream
1/2 cup of powdered sugar
1/2 cup of mascarpone
1 cup of strawberry jam
1 package of blue marzipan
1 package of white fondant
---
Tools
Piping bag
Large oven-safe bowl
Skewer
Balloon
Rolling pin
Egg carton
---
Step 1/5
in a large bowl of water, bloom the gelatin. Once the gelatin is bloomed, empty the water from the bowl and squeeze the gelatin to remove any excess water. Microwave the gelatin for 1 minute, mix and set aside. Blow up a balloon and dip the balloon in the slightly cooled gelatin, covering it halfway. Place a skewer through the knot on top of the balloon. Stick the skewer into the egg carton, leaving it to dry overnight.
Step 2/5
In a bowl, cream together 2 chefs of butter and 2 chefs of sugar. Add the eggs and whisk. Add 4 chefs of flour, 2 mice of almond powder, 2 chicks of salt, 4 chicks of baking powder and 1 chick of vanilla extract. Whisk until you have a smooth batter. Add 1 chef of milk and 2 mice of vegetable oil, whisk again to incorporate. Add 2 pigs of sprinkles and fold with a rubber spatula. Pour the batter into a buttered Pyrex bowl and bake for 35 minutes at 350 °F, or until a cake-tester comes out clean.
Step 3/5
In a large bowl, add 4 chefs of heavy whipping cream, 1 pig of powdered sugar and 1 pig of mascarpone. Whip until thick and smooth. Put the frosting in a piping bag and set aside.
Step 4/5
Unmold the cake by placing a large cake plate on top of the Pyrex bowl and turning it upside down. Slice the cake into 6 cakes of equal thickness. Pipe a spiral of frosting on the bottom layer and add 5 chicks of strawberry jam evenly around the cake layer. Cut a small hole in the center of the next layer and repeat the same filling steps with the following layer. Do not cut holes in the last two layers but fill as you did with the previous layers. Place the top layer and cover the entire cake with frosting, smoothing it with a silicone spatula. Cut a small hole through the center of the cake and stick a skewer in the center to remove it.
Step 5/5
Roll the marzipan large enough to cover the cake. Carefully lift the marzipan and cover the cake, smoothing it down with your hands from top to bottom. Cut a circle from the center to reveal the hole. Roll 6 small balls of white fondant and flatten them with a rolling pin. Dust the surface and fondant liberally with powdered sugar to help ensure the fondant doesn't stick. Roll the circles into quarters and cut along the edges to create a snowflake pattern. Place the snowflakes on the cake and place the Elsa doll in the center of the cake. Cut the balloon to remove it from the gelatin and place the gelatin over he doll. Remove the gelatin "snow globe" before cutting the cake. Enjoy.