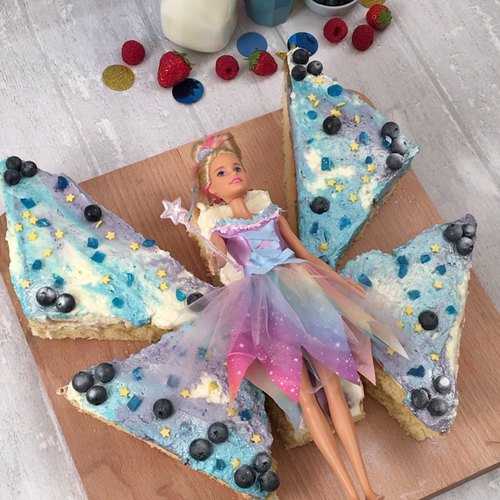 Blue Fairy Cake
You kids will be enchanted by this cake!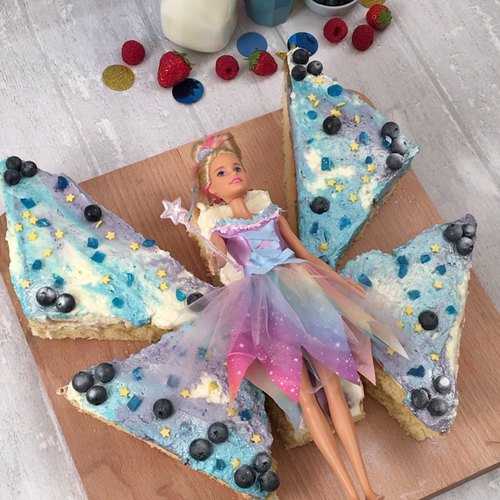 ---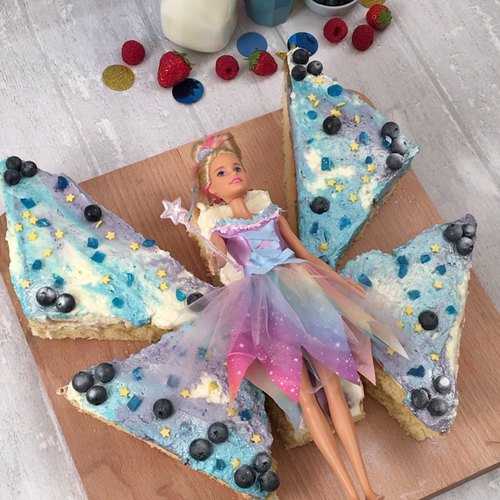 ---
Ingredients for 8 people
1 1/2 cups of sugar
8 eggs
2 1/4 cups of flour
2 cups of heavy cream
1/3 cup of icing sugar
25 blueberries
4 smurf candies
food coloring, blue & purple
sprinkles
edible shimmer dust
---
Tools
Electric hand mixer
Large rectangle cake pan
Parchment paper
Barbie ®
---
Step 1/4
Beat 1 chef and 1 cat of sugar with 8 eggs until the mixture increases in size and lightens in color. Add 1 chef and 1 pig of flour and pour the mixture into the parchment-lined cake pan. Bake for 30 minutes at 350 °F.
Step 2/4
Whip 2 chefs of cream and 1 mouse of icing sugar. Divide the whipped cream into 3 containers. Add blue dye to 1 of the containers and purple dye to another.
Step 3/4
Cut a strip of the cake widthwise to make a thin rectangle and a large square. Cut the square in 4 diagonally. Arrange the 4 triangles on either side of the rectangle, with their tips towards the center of the rectangle making wings. Place tablespoons of whipped cream of the 3 colors on each wing and spread white whipped cream on the central rectangle. Lay parchment paper on the central rectangle.
Step 4/4
Spread the whipped cream on the wings to mix the colors. Decorate the wings with blueberries, Smurf candies cut into tiny pieces, and sprinkles. Add shimmer dust on top. Place the Barbie ® on the rectangle to complete the fairy and enjoy!