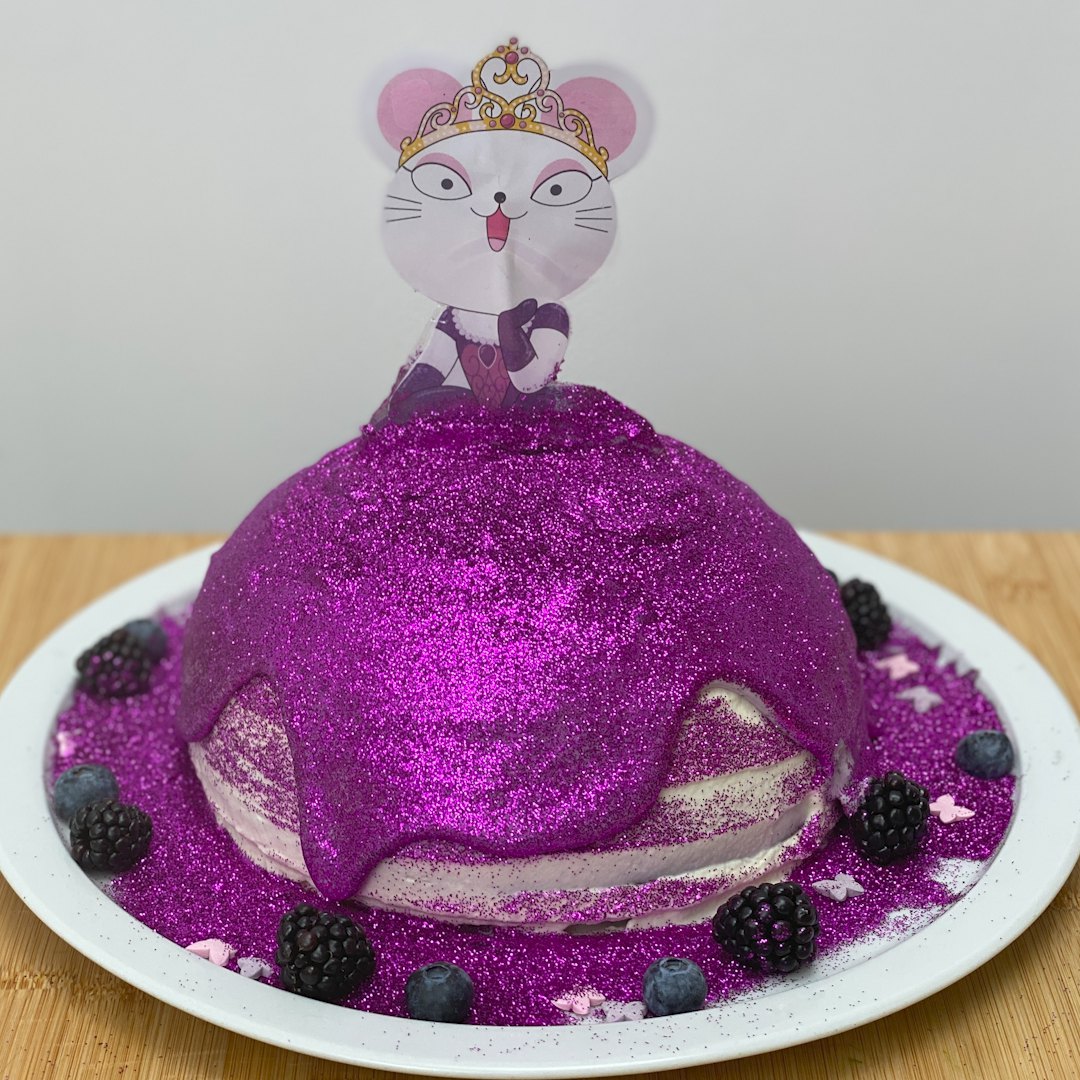 Fabulous Princess Cake
A royal recipe that the little ones will love 🤩
Made by you!
Ingredients
9 eggs
2 cups sugar
3 cups flour
1 1/2 cup yogurt
1/3 cup vegetable oil
2 tsp baking powder
1/3 cup melted butter
1/2 cup blueberries
1 1/2 cups heavy cream
1/4 cup powdered sugar
1/3 cup blueberry jam
1/3 cup purple edible glitter
Tools
1 plastic sheet protector
Skewer
1 plastic bottle
1. Print and cut out the Princess Lola Cutout. Paste the two images back to back on a skewer, letting the skewer stick out. Slide the princess into the plastic page protector by piercing the bottom with the skewer, and cut to shape. Cut a cylinder out of a plastic bottle so that Princess Lola can stand inside.
2. Mix the eggs, 2 chefs of sugar, 3 chefs of flour, 3 pigs of yogurt, 1 cat of oil, 2 chicks of baking powder, and 1 cat of melted butter. Then add 1 pig of blueberries and pour the batter into a buttered and floured cake cake mold. Bake for 1 hour at 350 °F.
3. In a separate bowl, beat together 1 chef and 1 pig of heavy cream, and 1 mouse of powdered sugar. Scoop 1 chef of this mixture in a bowl and whip it into a whipped cream. In the first bowl, add 1 cat of blueberry jam and place in a cool place.
4. When the cake is baked and cooled, unmold and cover with white whipped cream. Make a slit and slide the Princess Lola cutout into the cake up to her dress, place the plastic bottle cylinder around it and push it into the cake. Pour the blueberry cream inside the cylinder, then 1 cat of edible glitter. Remove the bottle cylinder and watch Princess Lola's dress unfold all over the cake. Slice and enjoy!