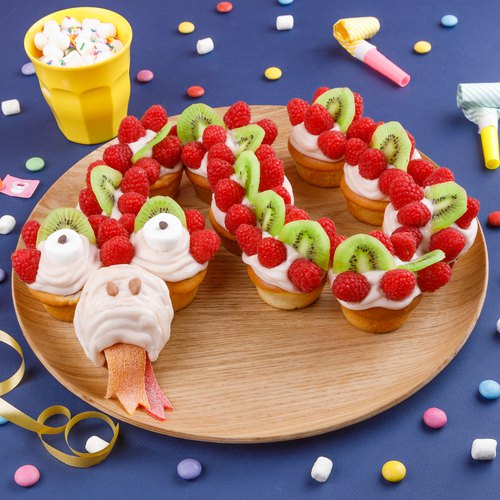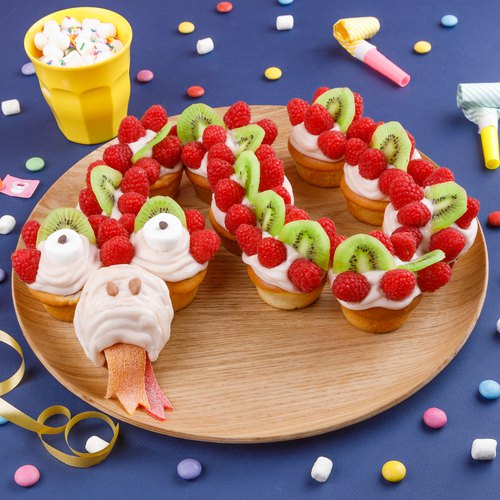 ---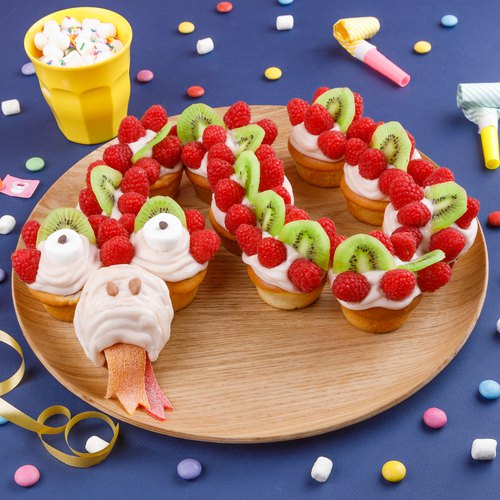 ---
Total time: 1 hour
Prep time: 40 minutes, Cook time: 20 minutes
Ingredients for 12 people
2 cups of flour
1 pinch of salt
3/5 cup of sugar
1 tbsp of baking powder
2 eggs
0.3 cup of melted butter
1 cup of heavy cream
2 cups of raspberries
1 cup of powdered sugar
1 cup of cream cheese
1 cup of kiwi
1 marshmallow
4 chocolate chips
2 candy belts
---
Tools
Muffin tin
Strainer
Freezer bag
---
Step 1/4
2 cups of flour - 1 pinch of salt - 3/5 cup of sugar - 1 tbsp of baking powder - 2 eggs - 0.3 cup of melted butter - 1 cup of heavy cream - 1/2 cup of raspberries
In a bowl, mix 2 chefs of flour, 1 pinch of salt, 2 cats of sugar, and 1 hen of baking powder. Create a well in the center of the dry ingredients and add 2 eggs, 1 cat of melted butter, and 1 chef of heavy cream. Stir the mixture, then add 1 pig of raspberries to the batter.
Step 2/4
Fill each muffin tin cup with the cupcake batter, filling them up to about 3/4 full. Bake the cupcakes at 350 °F for approximately 20 minutes.
Step 3/4
0.3 cup of raspberries
Meanwhile, take 1 cat of raspberries and crush them using the mouse measuring cup. Sift the crushed raspberries to remove the seeds to obtain a smooth puree.
Step 4/4
1 cup of powdered sugar - 1 cup of cream cheese - 1.2 cups of raspberries - 1 cup of kiwi - 1 marshmallow - 4 chocolate chips - 2 candy belts
In a separate bowl, combine 1 chef of powdered sugar, 1 chef of cream cheese, and the crushed raspberries. Mix the ingredients until they are well combined and homogeneous. Transfer the frosting mixture to a freezer bag and pipe the raspberry cream cheese frosting onto each cupcake. Line up the cupcakes to form a dragon shape. Place additional raspberries and kiwi slices on top for decoration. Use marshmallow halves and chocolate chips to create eyes for the dragon, and belt candy for the tongue. Serve and enjoy!