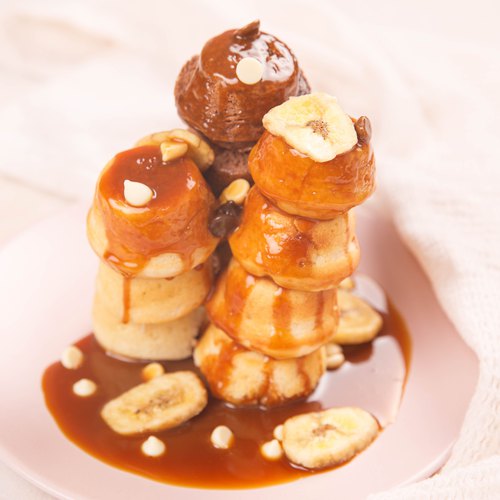 Caralot Stuffed Muffins
Caralot Stuffed Muffins! Time to melt for this great recipe 😋🧁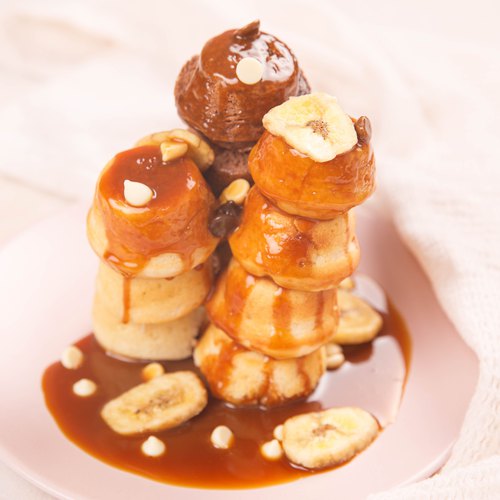 ---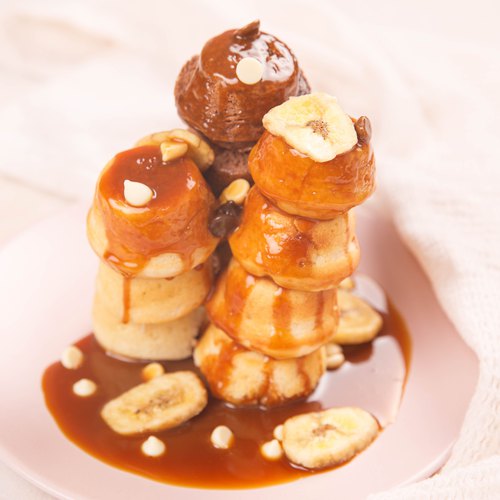 ---
Total time: 35 minutes
Prep time: 35 minutes
Ingredients for 4 people
1 egg
1 cup of flour
2 1/2 tsp of baking powder
3/4 cup of milk
1/2 cup of butter
2 tbsp of cocoa powder
4/5 cup of heavy cream
2 tbsp of hazelnuts
2 1/2 oz of dark chocolate
2 1/2 oz of white chocolate
1 tsp of chocolate chips
1 tsp of white chocolate chips
1 tsp of dark chocolate chips
---
Tools
Raclette grill
Muffin tin
---
Step 1/4
Mix the egg and 2 tbsp of sugar. Add the flour, baking powder, 2 tbsp of melted butter and the milk then mix smooth. Divide the batter in two, add the cocoa powder to one of the batters and mix.
Step 2/4
Heat the rest of the sugar, add the hot heavy cream and the butter. Allow to reduce to obtain a caramel.
Step 3/4
Cut the banana into slices, place the hazelnuts in 2 pans and the banana slices in 2 other pans. Sprinkle the banana with sugar then place the pans in the raclette grill. Place a muffin pan on top of the raclette machine, pour the plain pancake preparation and the chocolate one then sprinkle the cooked hazelnuts, squares of dark and white chocolate and the bananas in each row.
Step 4/4
Allow the muffins to cook, unmold the muffins with a toothpick then form 3 muffin towers on each plate. Add milk chocolate chips, white chocolate chips and dark chocolate chips in the caramel. Mix and pour the caramel on the muffin towers. Serve and enjoy!