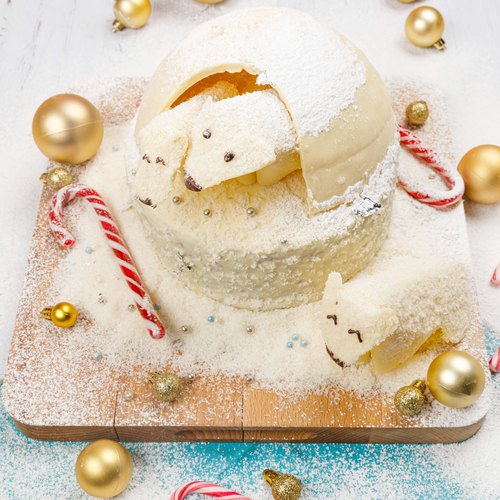 Polar Express Cake
Polar Express Cake! All aboard for another sweet recipe 🐻‍❄️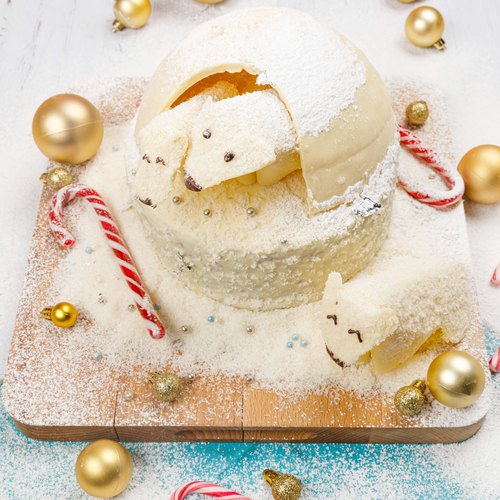 ---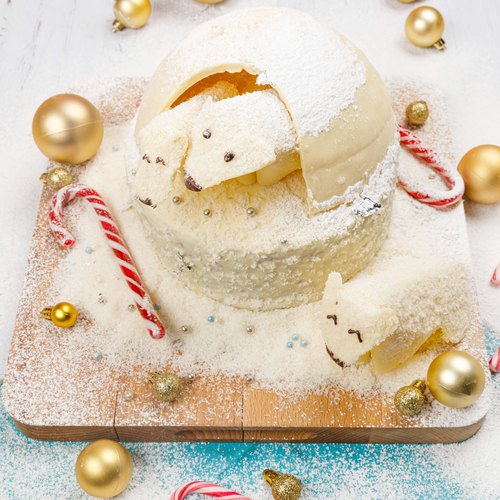 ---
Total time: 2 hours 10 minutes
Prep time: 40 minutes, Cook time: 1 hour , Rest time: 30 minutes
Ingredients for 6 people
4.3 cups of flour
1 cup of butter
1.3 cups of milk
2 tbsp of baking powder
6 eggs
2 cups of sugar
1/4 cup of chocolate chips
1 1/2 cups of white chocolate
1.4 cups of shredded coconut
5 tbsp of dark chocolate
---
Tools
Balloon
Plastic sheet protector
---
Step 1/4
Combine the butter, flour, milk, eggs, sugar and baking powder until you get a smooth batter. Add the chocolate chips and mix again. Pour the dough into the cake mold and bake for 1 hour at 300°F.
Step 2/4
Melt 1 cup of white chocolate and pour it into a plate. Form shavings with the rest of the white chocolate and reserve them on another plate. Inflate a balloon and dip the end in the melted white chocolate. Now dip the end of the balloon in the white chocolate shavings in a circular motion. Dip the end in 1 liter of ice water to set the decoration. Prick the balloon with a toothpick to easily unmold the white chocolate shell. Place it on a baking sheet and cut a hole to form the door of the igloo. Place in the fridge for 30 minutes.
Step 3/4
[Download and print the pattern of the bear] (https://cdn.chefclub.tools/web_assets/gateau-igloo.pdf). Place the design in a plastic sheet protector and then cut out the decoration following the outline. Remove the paper from the plastic sheet protector. Cover the plastic with the remaining melted white chocolate. Spread the chocolate with a spatula and carefully remove the plastic sheet protector with the help of a toothpick. Repeat the process a second time.
Step 4/4
Place the cake on a wire rack over a plate. Pour the remaining white chocolate over the cake to coat it completely. Sprinkle with the shredded coconut. Sprinkle the remaining coconut on a plate and place the cake in the middle. Place the white chocolate bears on top. Melt the dark chocolate and pour it into a ziploc bag. Use the dark chocolate to draw the eyes and muzzle of the white chocolate bears. Place the white chocolate igloo shell on the cake. Enjoy!