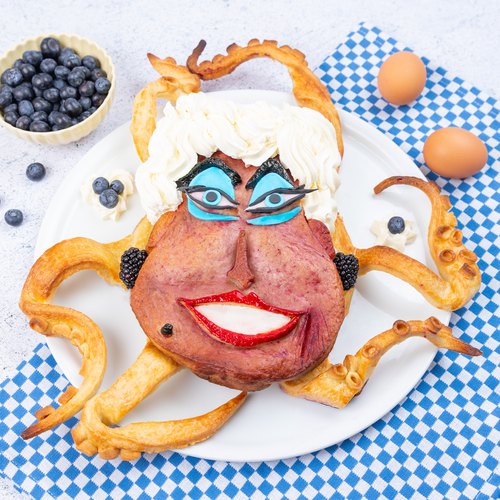 Ursula Blueberry Pie
Ursula Blueberry Pie! It will tentacle your fancy 🥧🐙🔮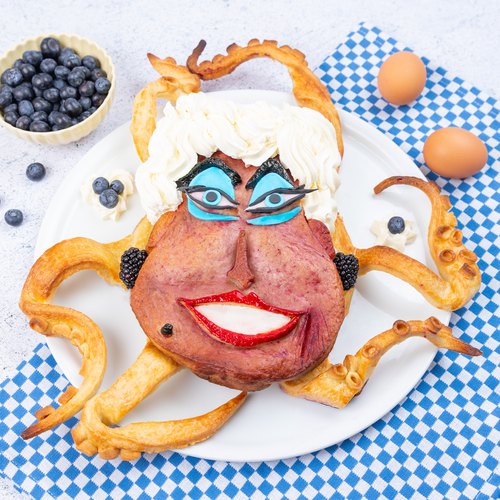 ---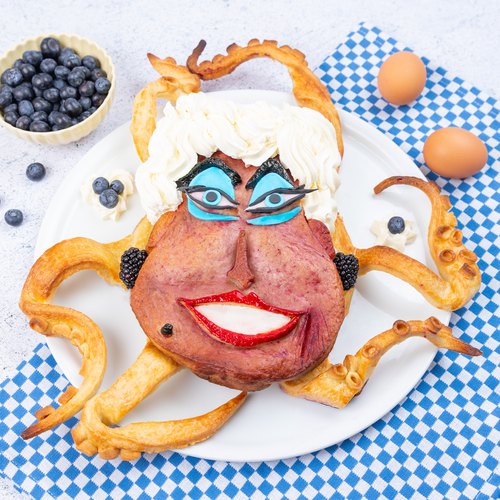 ---
Total time: 1 hour 15 minutes
Prep time: 25 minutes, Cook time: 50 minutes
Ingredients for 4 people
1 1/4 cups of butter
1 1/4 cups of sugar
2 egg
5 tbsp of powdered sugar
4 cups of flour
1 pinch of salt
7 oz of blueberries
3/4 cup of heavy cream
3 1/2 oz of mascarpone
4 blackberries
Blue fondant
Black fondant
White fondant
Red food coloring
Black food coloring
---
Step 1/4
Mix the butter, sugar, eggs, flour and salt. Roll out the dough, create tentacles and cut small circles to form suction cups. Form two discs with the rest of the dough.
Step 2/4
Place the blueberries in the center of a disc and dust with powdered sugar. Glue the suction cups on the tentacles, place the tentacles all around the pie on small upturned bowls. Cover the blueberries with the second disc of dough, pressing down on the edges. Brush the whole thing with an egg yolk. Bake for 25-30 minutes at 350°F.
Step 3/4
Create Ursula's face with the remaining dough and bake for 20 minutes at 350°F. Once cooled, melt a few blueberries in the microwave, then brush Ursula's face completely with blueberry juice. Form the eyes with blue, black, and white fondant. Paint the details of the face using red and black food coloring.
Step 4/4
Mix the heavy cream, the mascarpone and remaining sugar. Place in a piping bag. Pipe the whipped cream in the center of the pie, then place Ursula's face on top. Pipe the whipped cream all around the face for the hair, add a few blackberries on the side and enjoy!