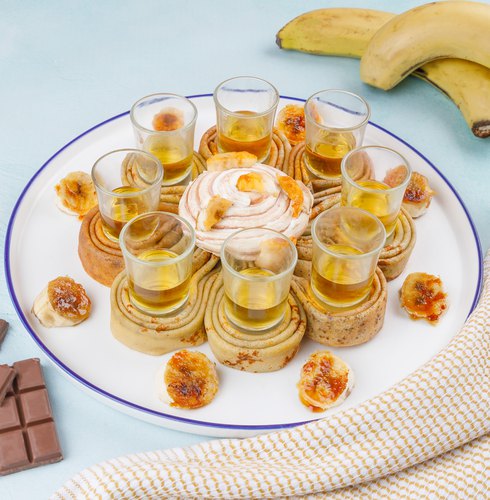 Rum-bling Flower Crepes
Rum-bling Flower Crepes! Time flies when your having rum 🥞🥃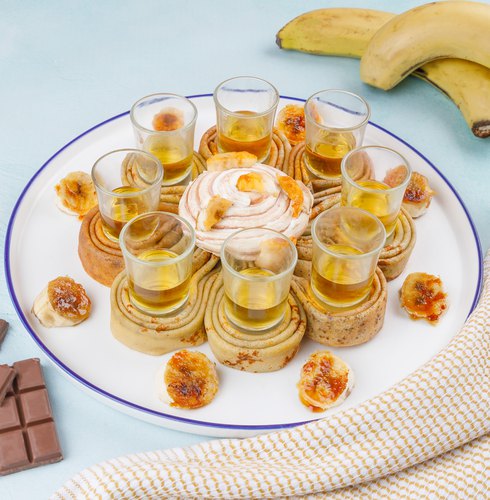 ---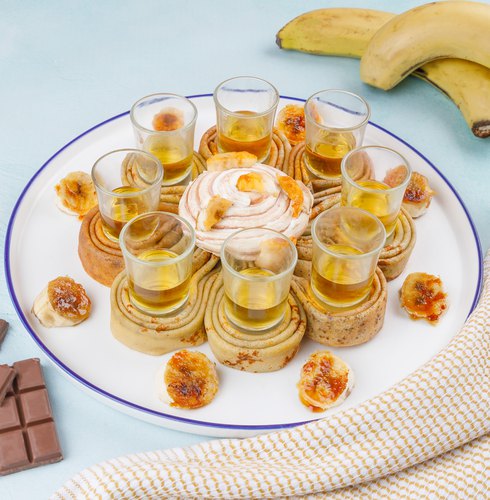 ---
Total time: 1 hour 55 minutes
Prep time: 45 minutes, Cook time: 10 minutes, Rest time: 1 hour
Ingredients for 4 people
4 egg
2 cups of flour
1.9 cups of milk
4 tbsp of sugar
5 tbsp of butter
3 1/2 oz of mascarpone
4/5 cup of heavy cream
2 1/2 tbsp of powdered sugar
3 1/2 oz of chocolate hazelnut spread
4 bananas
4/5 cup of rum
3 tbsp of brown sugar
---
Tools
parchment paper
Shot glass
Piping bag
---
Step 1/4
Mix the flour, sugar and a pinch of salt in a bowl and form a well. Add the eggs and mix gently until the batter thickens. Gradually add the milk while continuing to mix. Melt the butter and pour it into the mixture. Allow to rest for 30 minutes in the fridge. Cook 8 crepes.
Step 2/4
Whip the mascarpone, heavy cream and powdered sugar into whipped cream. Pour lines of chocolate hazelnut spread on the sides of the piping bag, place the whipped cream in the piping bag. Place a circle of parchment paper on the work surface, pipe the whipped cream with the spread in the center of the circle, forming a spiral. Freeze for 30 minutes.
Step 3/4
Cut 1 banana into thin slices. Cut the crepes into 5 strips, spread the chocolate hazelnut spread on the 3 strips in the middle, place a slice of banana on the strip in the middle. Fold the strips of crepes with the spread and the banana on themselves, overlap them and place them around a shot glass to form a flower. Repeat the process 7 times. Fill the shot glasses with rum and set the plate aside.
Step 4/4
Cut 3 bananas into slices, skewer 3 slices on each skewer. Pour the brown sugar into a buttered skillet and place the banana skewers to caramelize on each side. Place the spiral of whipped cream in the center of the crepe plate with the shot glasses, cut the banana skewers into pieces, remove the skin and place them on the plate for decoration. Flambé the rum and enjoy!