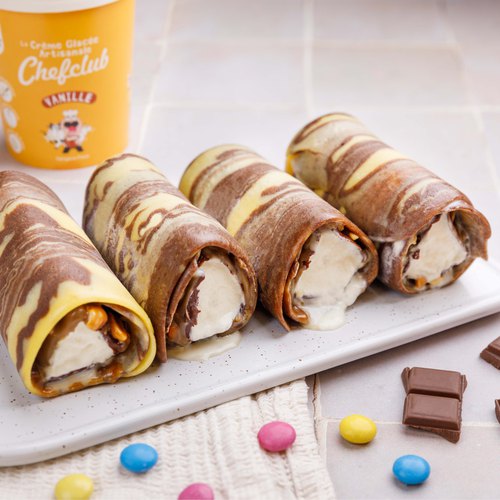 Marbled Ice Cream Crepe
Marbled Ice Cream Crepe! It's THE dessert you've been craving 🥞🍦🤩🤩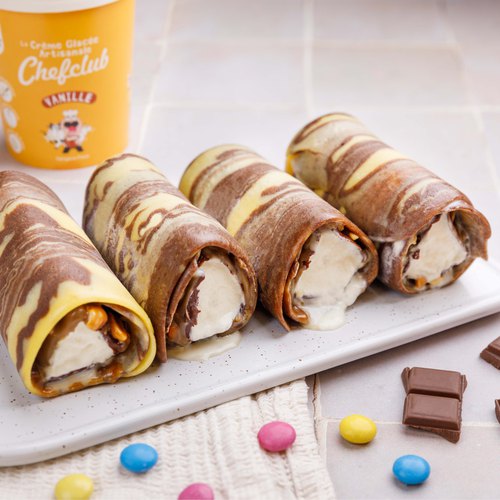 ---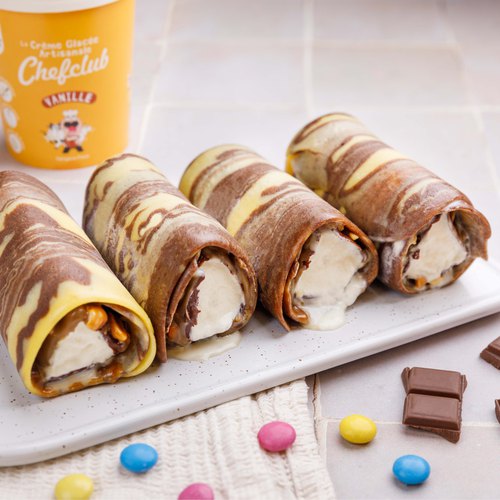 ---
Total time: 1 hour 20 minutes
Prep time: 30 minutes, Cook time: 20 minutes, Rest time: 30 minutes
Ingredients for 5 people
4 egg
1 1/2 cups of flour
1.9 cups of milk
1/2 cup of sugar
3 1/2 tbsp of butter
Vanilla extract
1/2 lemon
1/4 cup of cocoa powder
4/5 cup of peanuts
5.2 oz of dark chocolate
1 pint of chefclub vanilla ice cream
Salt
---
Tools
Whisk
Skewers
Egg carton
Cling wrap
---
Step 1/4
Mix the flour, 4 tbsp of sugar and a pinch of salt in a bowl and form a well. Add the eggs and mix gently until the batter thickens. Gradually add the milk while continuing to mix. Melt the butter and add it with the vanilla extract. Allow to rest for 30 minutes in the fridge. Separate the mixture into 2 pitchers.
Step 2/4
Cook the rest of the sugar over low heat in a saucepan, pour 5 tablespoons of water to moisten the sugar, do not stir. Add a dash of lemon and remove the pan from the heat once the sugar begins to caramelize. Mix the preparation with 0.8 cup of hot water then set aside.
Step 3/4
Add the cocoa powder to a pitcher of crepe batter using a whisk. Wrap the egg carton with cling wrap. Pour the crepe batters into the egg holes, alternating the plain batter and the chocolate batter. Cook the crepes on the plancha, pouring them from the egg carton so that they mix. Repeat the process to have 5. Reserve the marbled crepes.
Step 4/4
Melt the dark chocolate. Pour the caramel, the crushed peanuts and the melted dark chocolate each onto a plate. Make small incisions on the top of the Vanilla Chefclub Ice Cream to form slices. Insert the skewers into each piece of ice cream. Make an incision on the underside of the tub of Chefclub vanilla ice cream then unmold the ice cream with a glass. Cut the pre-cut pieces of ice cream completely then roll them in the melted dark chocolate, the crushed peanuts, the caramel and wrap the marbled crepe around it. Reserve the crepes in the freezer. Remove the skewers and enjoy!