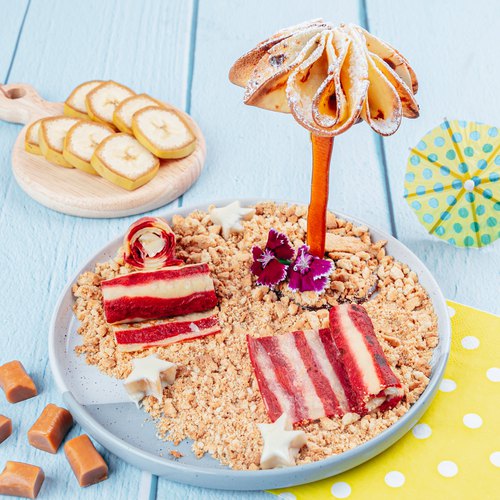 Sunny Beach Crepes
Sunny Beach Crepes! This treat shore is good 🥰🏖️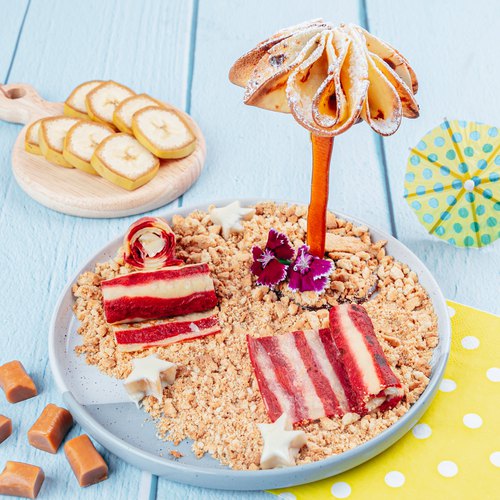 ---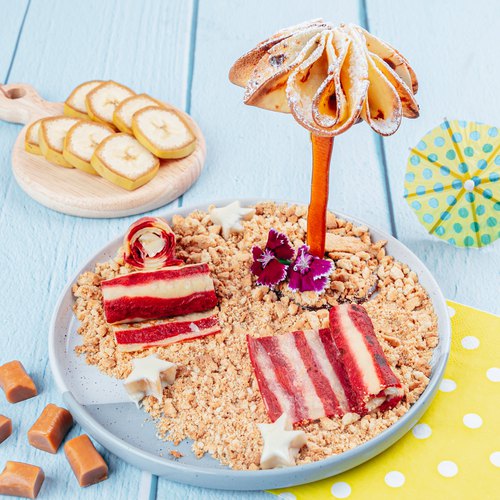 ---
Total time: 1 hour 25 minutes
Prep time: 35 minutes, Cook time: 30 minutes, Rest time: 20 minutes
Ingredients for 4 people
3 egg
1 cup of sugar
1 3/4 cups of flour
2.1 cups of milk
Red food coloring
1 banana
3 1/2 tbsp of hazelnut praline
5 butter cookies
1 cup of heavy cream
3 1/2 oz of mascarpone
2 tbsp of powdered sugar
---
Tools
Toothpicks
Squeeze bottles
Pizza cutter
---
Step 1/4
Mix the flour and 4 tbsp of sugar, form a well. Add the eggs and mix gently until the batter thickens. Gradually pour in the milk. Melt the butter and pour it into the mixture. Allow to rest for 30 minutes in the fridge. Divide the batter in two, add the red food coloring to one of the crepe batters and pour each batter into a squeeze bottle.
Step 2/4
Cut the banana into pieces. Whip the heavy cream and mascarpone and set aside. Pour the batter in a rectangle on the griddle, alternating a line of plain crepe batter and a line of red crepe batter and let it cook. Cut the colored crepe into strips using a pizza cutter. Spread the whipped cream on each strip and place a piece of banana at the end. Sprinkle with praline and roll them up on themselves. Refrigerate for 20 minutes.
Step 3/4
Cook 3 plain crepes. Cut 5 circles in each crepe, fold them in half and place them at the ends of 5 toothpicks and fold them on the side. Repeat the process to have 3. Link the toothpicks together, place them each in a glass and bake for 30 minutes at 210°F.
Step 4/4
Melt the rest of the sugar in a saucepan to make caramel. Spread 3 dashes of caramel and 6 circles on the chefclub baking mat and let them cool. Weld 2 circles at the end of a line of caramel using the melted caramel, pour a dot of caramel on top of a circle and place a plain crepe on top. Repeat the process to have 3. Arrange the caramel palm trees and the rolls of colored crepes on a plate. Grate the butter cookies to make the sand of the beach. Sprinkle with powdered sugar and enjoy!