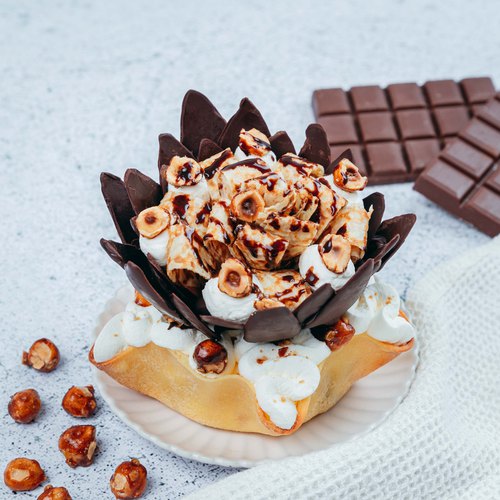 Chocolate Blossom Crepes
Chocolate Blossom Crepes! Beautiful and delicious 🌹🤩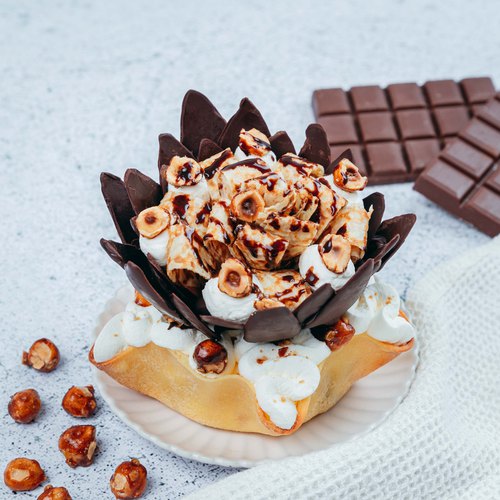 ---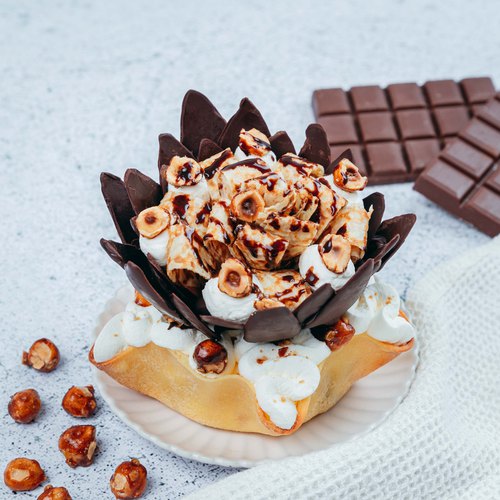 ---
Total time: 1 hour 10 minutes
Cook time: 40 minutes, Rest time: 30 minutes
Ingredients for 3 people
1 1/2 cups of flour
4 egg
2.1 cups of milk
5.3 oz of dark chocolate
10 hazelnuts
Vanilla ice cream
4 tbsp of hazelnut praline
0.4 cup of heavy cream
3 1/2 oz of cream cheese
---
Step 1/3
Mix the flour, eggs and milk to make a smooth crepe batter. Cook the crepes. Roll a crepe into a rectangle, cut into strips and roll up on itself to form a flower. Bake 10 minutes in the oven and set aside. Place the rest of the crepes on a tin can and bake 30 minutes at 250°F.
Step 2/3
Take a bottle; cut off the top and cut out ovals. Dip them in melted chocolate to make petals. Refrigerate for 30 minutes. Place the petals around the crepe flower to form a larger flower.
Step 3/3
Add whipped cream, vanilla ice cream, chocolate sauce and hazelnut praline inside the crepe. Add the chococolate flower and sprinkle with hazelnuts. Serve and enjoy!